Teen Mom War! Alexandria Sekella Slams 'Poor Excuse For A Mom' Jenelle Evans, Says 'Once An Addict Always An Addict'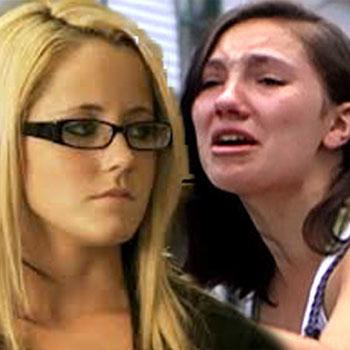 Teen Mom 2 star Jenelle Evans has a hater and it's Teen Mom 3's Alexandria Sekella, who has voiced her distaste for the foul-mouthed MTV star on Twitter and RadarOnline.com has all the details.
The Twitter war started on June 28 when Jenelle posted a message about Alexandria's daughter being taken to the hospital and the 16 & Pregnant alum snapped back, "please leave myself and my daughter off your site thank you."
Article continues below advertisement
Alexandria continued, "I don't want any real association with her other then our jobs with mtv."
Jenelle seemingly ignored the comment, but Alexandria continued on a hate-fueled tirade against her with posts like, "@PBandJenelley_1 seriously I'm pleased u think my story is going to get u more money but hop off my shit ur rights should be revoked," and "I don't want her using me to get her drinking money she didn't right the article."
By June 30, Jenelle finally responded to Alexandria and that's when things really got heated.
And from one mother to another, Alexandria even attacked Jenelle's parenting skills.
Alexandria even went so far as to speak with MTV, claiming Jenelle was told to leave her alone.
Looks like a war is brewing between these two MTV Teen Moms — are you Team Jenelle or Team Alexandria?