Taylor Armstrong's New Heartbreak: Forced To Turn Over Wedding Ring, Hermes Bags To Settle Russell's Debt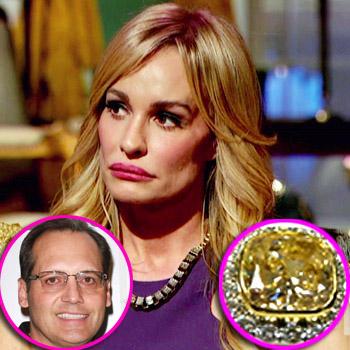 Taylor Armstrong's seen some tough times.
On Monday's edition of The Real Housewives of Beverly Hills, Taylor -- still on the hook for her late husband Russell's financial obligations -- relinquished her 10-karat wedding ring and two Hermes bags to one of Russell's business associates who was suing her for $1.5 million.
"I can't imagine someone even having the guts to ask someone for the wedding ring," an emotional Taylor complained in the episode, noting she had once considered the people who were suing her as friends.
Article continues below advertisement
After a day of hemming and hawing, Taylor eventually relented and handed over the ring -- with an estimated value of $250,000 -- to the business associate, a company called MMR.
Taylor wrote in a Bravo blog Monday that she'd never been though a legal battle like that, calling it "scary as hell.
"To learn that they wanted my wedding ring to settle was heart-wrenching," she wrote. "I wasn't wearing the ring and the material object wasn't important to me but, it felt like letting go all over again."
MORE ON:
The Real Housewives of Beverly Hills
She noted the ring was "one of very few happy mementoes" Russell left behind for his daughter Kennedy, and that she hoped to pass it on for Kennedy to "wear it when she got married."
Watch the video on RadarOnline.com
"In the end, it was the right thing to do to settle and to let go of my ring," she wrote. "The pressure was too great and I couldn't keep fighting and spending a fortune on attorneys."
Taylor noted the battle had taught her "mostly about the resilience of people facing overwhelming odds.
"We are tougher than we think we are when we are backed against a wall," she wrote.
Taylor's destructive relationship with Russell -- who she said was physically abusive with her -- was closely chronicled last season, ending with Russell's suicide.
The Real Housewives of Beverly Hills airs on Bravo Mondays at 9/8c.