Taylor Armstrong Still Wearing Wedding Ring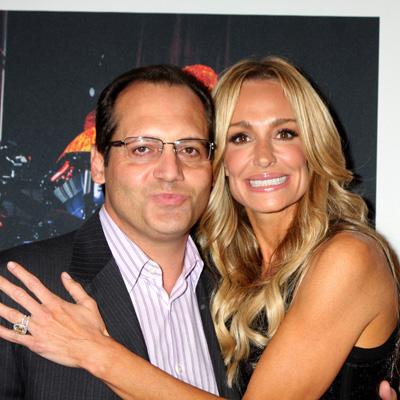 By Adam S. Levy - RadarOnline.com Staff Writer
Real Housewives of Beverly Hills beauty Taylor Armstrong is still brandishing the physical and emotional scars of the rocky relationship she shared with her late husband Russell, telling Entertainment Tonight Thursday it's "comforting" for her to "wear his wedding ring" and remain living in the house they shared.
"For me, I need his energy around me and around our daughter," Taylor told the show's co-anchor Nancy O' Dell, referring to their 5-year-old child Kennedy.
Article continues below advertisement
O'Dell, a veteran entertainment journalist who met Taylor for the first time while conducting the interview, said that while the grieving 40-year-old widow is "fragile ... she's very in tune with her feelings ... she speaks very intelligently."
O'Dell said while Taylor's "trying to walk on eggshells, as she did during her marriage, with her daughter," she didn't hold back a thing regarding the alleged abuse she suffered at the hands of her late ex, who hanged himself last month.
The show also consulted with New York based reconstructive surgeon Dr. Barry Weintraub, to review the CT scans of Taylor's injuries. He said Taylor's injuries were "caused by blunt trauma -- usually by a fist," adding she could have gone blind as result of the vicious attack. (Weintraub did not treat Taylor).
On Thursday, Camille Grammer -- formerly the focal point of the show for her own marital woes with ex Kelsey Grammer -- told Access Hollywood she "was over at Taylor's house three weeks after it happened, and I was devastated and upset for her that she went through this.
Article continues below advertisement
"All we need to do is just support her as much as we can."
Russell, 47, was found dead at a Los Angeles home August 15. He is survived by wife Taylor and three kids: son Aiden, 13 (with ex-wife Barbara Fredrickson); son Griffin, 11 (with former fiancée Milette Fields); and daughter Kennedy, 5 (with Taylor).
ET will examine past celebrity abuse victims (Rihanna, Nicole Brown Simpson & more) Friday; their exclusive interview with Taylor airs on Tuesday, September 20.