Exclusive
Taylor Armstrong Hospitalization: The Reason Behind The Vicious Beating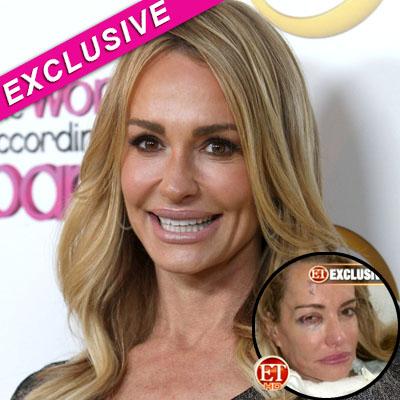 By Jen Heger - Radar Legal Editor
Taylor Armstrong was badly beaten by her husband Russell Armstrong after she told him her friends planned to report his past physical abuse to law enforcement and child protective services, RadarOnline.com is exclusively reporting.
Russell committed suicide and was found hanging at a friend's home in Los Angeles on August 15, several months after Taylor filed for divorce.
Article continues below advertisement
Taylor's closest friends and advisers were growing increasingly worried for her safety, as well as the wellbeing of her 5-year-old daughter, Kennedy, and were threatening to go to the authorities with their concerns.
"Taylor's friends were so worried about her and Kennedy's welfare. Her advisers issued a gauntlet, either file for divorce, or we are going to the cops and Los Angeles Department of Children and Family Services with our fears," a source close to the situation tells RadarOnline.com. "When Taylor told Russell what her friends planned on doing, he beat her, and that is what caused her to go to the hospital."
Taylor decided while she was hospitalized that she would file for divorce. "Taylor was broken and beaten when she was hospitalized. She took pictures to document what had happened. Taylor made the decision to pull the plug on her marriage while she was still in the hospital. She realized she had no other choice," the insider says.
As RadarOnline.com previously reported, Russell had a violent past towards the women in his life, including his ex-wife, Barbara Fredrickson and then girlfriend, Claudia Haro.
Article continues below advertisement
Russell was charged with battery for beating Barbara after she claimed in court docs that: "Russell threw me to the ground and slapped me across the face....the police were called to Russell's and my residence during our marriage because Russell hit me, blackened my eyes, kicked me in the back, threw crystal drinking glasses at me and spit on me."
On March 30, 1998, Russell Armstrong pled no contest to a battery charge involving Fredrickson. Armstrong was placed on three years probation, ordered to perform 50 hours of community service, attend a one year anger management program, attend 50 AA meetings and give a $1,000 donation to the Women's Clinic in Venice, California.