Exclusive
Real Housewife Taylor Armstrong's Husband's Violent Past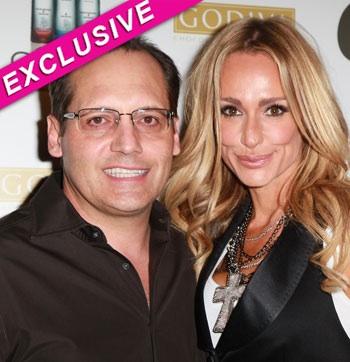 By Jen Heger - RadarOnline.com Legal Editor
Taylor Armstrong of The Real Housewives of Beverly Hills, has claimed that her estranged husband, Russell Armstrong has been physically abusive toward her, and RadarOnline.com has exclusively learned that he has a past history of abusive and violent behavior with other partners.
In fact, Armstrong has had two separate temporary restraining orders filed against by him, one by his ex-wife, and one by an ex-girlfriend. In addition, Armstrong has a criminal record, having pled guilty to battery in 1997.
Article continues below advertisement
EXCLUSIVE DOCUMENTS: Barbara Armstong Alleges Russell Armstrong Abused Her And Their Son
Russell Armstrong was married to Barbara Armstrong from 1997 and separated shortly after their son Aiden was born. In exclusive court documents obtained by RadarOnline.com, Barbara alleges that when she was six months pregnant: "Russell threw me to the ground and slapped me across the face....the police were called to Russell's and my residence during our marriage because Russell hit me, blackened my eyes, kicked me in the back, threw crystal drinking glasses at me, and spit on me."
Barbara also states in her sworn declaration that in late 1997 Russell: "Pleaded guilty to battery and said that he understood that he had to go to an anger management program. That was the first anger management program that Russell was ordered to attend."
Barbara ultimately divorced Russell, remarried and moved to Arizona, but Aiden continued to see his father every other weekend, and flew to Los Angeles to do so.
Article continues below advertisement
On August 6, 2004, Barbara claims in her declaration that she was called by Russell's then-girlfriend, Claudia Haro, who told her she "Saw Russell slap Aiden across the face, very hard. This slap was so hard that Ms. Haro heard it across the room. Ms. Haro has seen and heard Russell slap Aiden's face very hard on other occasions."
Barbara subsequently got a temporary restraining order against Russell and requested that an off-duty police officer monitor visitation with their son, Aiden.
Haro also submitted a sworn declaration stating that Russell hit her too. After accusing Claudia of sleeping with an ex-boyfriend, she claims Russell "hit me in the face so hard that my neck snapped back....I got out of Russell's car and dialed 911. However, I was put on hold. I was standing next to Russell's car with my cell phone in my hand when he walked around the car, pulled my cell phone out of my hand and he broke it by pulling the top part of my flip phone off. Russell then grabbed both of my wrists so hard that it hurt."
Article continues below advertisement
Claudia Haro and Barbara Armstrong got temporary restraining orders against Russell because of the allegations of abuse.
Haro states:"On August 10, 2004, the Los Angeles Superior Court in Torrance issued stay away orders against Russell..I was also ordered not to contact him because Russell falsely claimed that I was harassing him on the telephone, when, in reality, I had just returned the four or five voicemail messages he left for me after he hit me."
When reached for comment Armstrong's attorney told RadarOnline.com: "Russell and Taylor plan on mediating and amicably resolving their marriage. He also has a good relationship with his ex wife.
"Russell Armstrong is not convicted of any offenses. He categorically denies the seven-year-old allegations from the family law proceeding."
On March 30, 1998, Russell Armstrong pled no contest to a battery charge involving his former wife, Barbara Fredrickson. Armstrong was placed on three years probation, ordered to perform 50 hours of community service, attend a one year anger management program, and attend 50 AA meetings, and give a $1000 donation to the Women's Clinic in Venice, Calif.