Ex-Wife Claimed Russell Armstrong 'Hit, Kicked, Spit' On Her In 2004 Restraining Order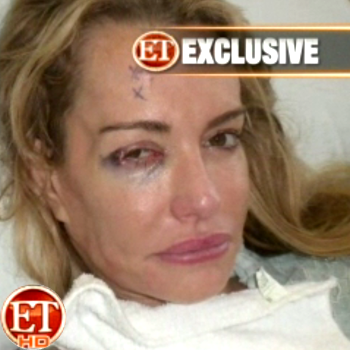 By Adam S. Levy - RadarOnline.com Staff Writer
As Entertainment Tonight prepares to air the first interview with Taylor Armstrong talking about the physical abuse she suffered at the hands of her now-deceased husband Russell, the syndicated program Wednesday delved into Russell's violent past with other women -- a story RadarOnline.com first broke back on August 2.
Russell's ex-wife Barbara Fredrickson claimed the late reality star "hit me ... kicked me ... blackened my eyes ... threw crystal drinking glasses at me ... and spit on me" in a 43-page restraining order request filed on August 20, 2004, reported ET.
Article continues below advertisement
E.T.'s story came a night after the program displayed bombshell photos of Taylor, 40, with a black eye and bruised forehead in photos taken in a Los Angeles hospital "weeks" before Russell's suicide last month.
Russell's wrath wasn't limited to women, but children as well, according to Fredrickson, who said in the court docs he slapped their then-6-year-old son Aiden in the face and violently shook him. Aiden would vomit before visiting with his father, Fredrickson said in the court docs, in which the child is quoted as saying, "Daddy Russell hit me in the face."
There's more violence in the paper trail of Russell's past, ET reported, as the late businessman was arrested in 1997 on battery charges, subsequently pleading guilty and attending court-ordered anger management as a result.
"There's no doubt that Taylor had fear of Russell," former LA district attorney Robin Sax told ET. "When your abuser is dead, they cant abuse you anymore ... there's no doubt that Russell was an abuser."
MORE ON:
Russell Armstrong
Article continues below advertisement
Taylor said their 5-year-old daughter Kennedy never saw her father's aggression toward her mother, ET reported. The show added that only six weeks before he hanged himself, Russell sought to change his will (though never drafted the paperwork to do so).
Russell, 47, was found dead at a friend's home in Los Angeles on August 15. He is survived by his wife Taylor and three kids: son Aiden, 13 (with ex-wife Fredrickson); son Griffin, 11 (with former fiancée Milette Fields); and daughter Kennedy, 5 (with Taylor).