Expert: Taylor Armstrong Victim Of 'Really Serious Physical Assault'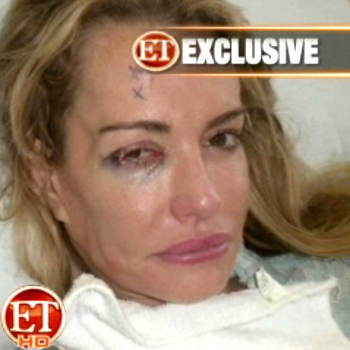 By Adam S. Levy - Radar Staff Writer
Real Housewives of Beverly Hills star Taylor Armstrong was the victim of "a really serious physical assault" just weeks before her husband Russell killed himself, Dr. Jill Murray, an expert on the subject, told Entertainment Tonight Tuesday.
ET displayed a montage of photos of the 40-year-old reality star taken in a Los Angeles hospital "weeks" before Russell's suicide last month. Murray said Taylor showed a blackened right eye, a bruise on her forehead and other signs that "a really serious physical assault" took place. (Murray has not treated Taylor).
Article continues below advertisement
Murray said from the injuries, it looked as if someone had taken Taylor's head from behind and forced it into a wall or table.
"Numerous sources" told ET Taylor suffered longtime abuse at the hands of her late husband.
According to ET, when Russell showed up at the hospital, Taylor claimed she suffered the injuries when she was kicked in face by her daughter, and the attending doctor did not report any abuse, as such.
Murray said it's always "a really good idea to document" any signs of abuse as they emerge, so the situation doesn't turn into a "He said, She said" scenario. She cited past celebrity cases involving Rihanna and Nicole Simpson to back up her point.
Watch the video on RadarOnline.com
Sources told ET that Taylor was hit so hard in the attack, she had to undergo Lasik surgery July 5 to correct the issue, and that during a subsequent attack at Russell's hands, Taylor was hit so hard, her corneal flap was dislocated.
Article continues below advertisement
ET said that Taylor was not seen publicly at all this past July, though she emerged August 1 to promote her show's second season on a press tour.
"For the woman it's sort of a shameful secretive dark situation that she doesn't tell anyone about," Murray said.
Taylor Armstrong's Shocking Black Eye Photos
The Armstrong were married in 2003, and their ups-and-downs were well-documented on the Bravo reality show. Recently, the couple was going through divorce proceedings, with Taylor claiming Russell had physically abused her.