'A Replacement For What She Lost': Tamra Barney Ponders Having Another Child On 'RHOC,' Amidst Brutal Custody Battle With Ex-Husband Simon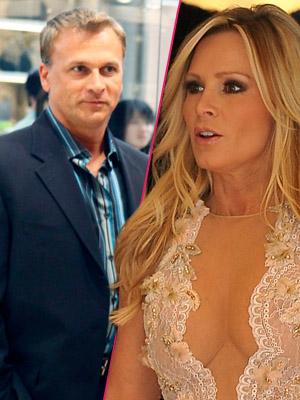 Real Housewives of Orange County star Tamra Barney, whose ex-husband Simon Barney has charged she's an unfit mother, is thinking about having another another child!
That's what viewers learned on the Bravo show Monday night as Barney, 45, was shown pining for a baby with her third husband, Eddie Judge.
Although the reality star already has four kids (three with second husband Simon) while she was planning a Halloween party last fall, Barney raised the idea of another baby with Judge.
Article continues below advertisement
Judge brushed off the idea, and then Barney was shown telling the cameras, "Eddie and I talked about kids several times before we got married. We're in our 40s. There's no time to waste. But I don't know if that's what we need or if that's truly what Eddie wants or if that's really what I want."
What Barney showed the cameras on the episode was that she missed her three kids, who were with their father for Halloween as part of their 50/50 custody agreement.
Article continues below advertisement
"Spencer texted me today his Christmas list," she told Judge about her son. "I wish they were here full time. Sophia texted me that she wanted to come home."
Scorned Exes Tell All: Inside Hollywood's Ugliest Splits
According to Barney on the Monday episode, "I think Sophia's having the hardest time because she's a mini me and she misses me when she's gone."
"It sucks seeing your kids 50 percent less of their life," she said in a confessional scene. "To me, family is kids running around and the house being crazy and it's hard for me to say Eddie and I are a family when the kids aren't there."
Watch the video on RadarOnline.com
Interestingly, however, although the blonde beauty mentioned son Spencer, 13, and youngest daughter Sophia, 8, she did NOT refer at all to daughter Sidney, 15, who has taken her father's side in an explosive custody battle between the ex-spouses.
As RadarOnline.com has reported, Simon filed paperwork in March seeking modification of their child custody agreement.
The court papers are riddled with accusations against the reality TV star, claiming she was negligent with the children, not properly feeding them or keeping up with their hygiene. The court filing also included a text message conversation between Tamra and daughter Sidney, which then spiraled into a twitter war between the two.
Article continues below advertisement
Later on Monday's episode, when Barney had dinner with Heather Dubrow and new housewife Shannon Beador, she spoke more about her desire to have another child.
Barney said, "I had a conversation with Eddie about the possibility of having a baby. I think he's content and he's happy right now.
"But the truth is, I don't see my kids 50 percent of the time, 50 percent of their life," she said, getting emotional.
Article continues below advertisement
Dubrow asked if that was why she was pushing Eddie to have another child and she nodded and broke into tears.
"I just want the baby that can be ours, just mine and Eddie's," Barney explained.
"I didn't sign on to be a part-time mom!" she fumed.
Dubrow judgmentally said, "I don't think having another child is going to fill that void."
"It's a replacement for what she lost," Dubrow commented to Beador — right in front of Barney!
But Beador believed Barney should just talk it over more with Eddie.
Also on the episode, viewers saw Vicki Gunvalson telling Barney and Dubrow that she wanted her controversial ex-boyfriend, Brooks Ayers, back in her life.
"He's part of my happiness," she told the ladies over dinner on the last night of their Hawaii trip.
Gunvalson said after two months, she missed Ayers and they had both been to counseling since then.
Article continues below advertisement
"I just know when I'm with him, I love him," Gunvalson said of the man who has been accused of cheating on her, and whom her kids loathe.
Even though Barney disapproves of Ayers as well, she told her friend Gunvalson, "I'm willing to give him another chance."
Gunvalson said she was even considering living with him, while admitting daughter Brianna wasn't going to change her mind.
"I'm not going to break up with Brooks because Brianna isn't willing to see him," Gunvalson told the ladies.
When Gunvalson left the table, Barney sighed to Dubrow, "I don't trust him but I can't stop her from dating him."
Meanwhile, new housewife Shannon Beador bonded with Gunvalson and the others at Barney's Halloween party, and later, hosted a dinner party for the women and their husbands at her home.
The cracks in Beador's marriage to husband David became apparent when they fought in the kitchen over the food and dinner arrangements.
Beador became a control freak in the kitchen, outraged that her potatoes wound up crunchy even though she'd hired a chef.
"If you tell me there's no crème brulee torch, I'm going to frickin' lose it," she told David, who was in charge of the dessert.
Their guests awkwardly overheard them arguing while viewers wondered if there would be another divorce case on the horizon.