Exclusive
Evidence Of Child Neglect? Damaging Emails Prove Tamra Barney Pulled 7-Year-Old From School Without Notifying Them For A Root Canal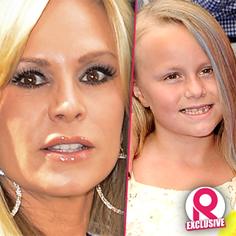 In a bid to prove child neglect, Simon Barney included a handful of absentee forms from the children's school citing that his Real Housewives of Orange County ex-wife routinely forgot to call in when her kids would be absent.
Furthermore, in legal documents exclusively obtained by RadarOnline.com the former Bravo dad included an email exchange with the school their daughter, 7 at the time, attends asking him to verify Sophia's absence for the day and he explains her mother, Tamra Barney, took her to the dentist to get a root canal.
Article continues below advertisement
"Sophia's mother just informed me she is sick today. And she took her to the dentist Monday for a root canal. I'm guessing she didn't call today or Monday to inform you she was absent. I'm sorry about this. Please mark her absent Monday and today."
Scorned Exes Tell All: Inside Hollywood's Ugliest Splits
In another email exchange from months later in Oct., Simon responds to the school's attendance clerk writing:
Article continues below advertisement
And a pediatric dentist in Beverly Hills, Dr. Darrin Hirt (who has never treated Sophia) tells Radar that the root canal could have been caused by poor oral hygiene — which Simon alleged in his legal documents against Tamra.
"Root canals on young children are not so rare, especially if it was on a primary tooth. A root canal is necessary when a cavity has reached the inside of the tooth where the nerve and blood vessels are located," Dr. Hirt said.
Article continues below advertisement
"A lack of good oral hygiene and a diet rich in sugary foods (especially the sticky, sugary foods) can lead to a 7-year-old needing a root canal. A root canal is sometimes needed on a tooth that had suffered trauma as well."
Mark H. Goldenberg, who also practices pediatric dentistry in Beverly Hills (and has not treated Sophia) adds, "Root canals in children are not usual, but it's also not unusual."
"How you brush, what kind of food you eat and how often you brush. Without knowing, we won't know what caused it," he added. "Very common in young kids is milk bottle decay and the sweet liquid stays on the teeth and causes decay. Some parents just don't know that."
As Radar previously reported, Simon has made strong allegations against Tamra — who has been estranged from her 15-year-old daughter, Sidney, when she moved out in favor of living with her dad — which she vehemently denies, saying:
Faked Scenes, Lies & Payoffs – The Ultimate Guide To Reality TV Shows
"I am very saddened by my ex-husband's attempt to publicly hurt me with false allegations. Why doesn't he understand he is hurting our children? My heart is broken and one day he will see the pain he has caused everyone."
On Thursday Tamra again expressed her grief at the situation on social media posting a photo of a notebook that read, "You think you want to die, but in reality you just want to be saved," with the caption, "I've lost my strength."