WATCH LIVESTREAM: 'Slenderman' Suspects, 12, To Appear Before Wisconsin Judge In Stabbing Case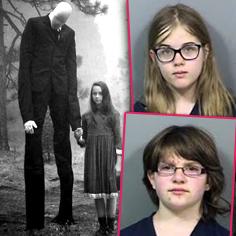 Morgan Geyser and Anissa Weier, the two 12-year-old Wisconsin girls accused of stabbing a peer 19 times as a macabre tribute to a fictional monster called "Slenderman," were slated to appear at a key status conference Wednesday, where a judge might forward the controversial case to juvenile court, as both girls are currently charged as adults with attempted first-degree intentional homicide.
Legal professionals such as Wendy Murphy were conflicted regarding the appropriate placement of the high-profile case, in which the suspects lured their victim into the woods to play "hide-and-seek" prior to the horrific attack.
Article continues below advertisement
"The girls are in adult court because this is such a serious crime, and they should be facing serious consequences," Murphy told Good Morning America on Wednesday. "On the other hand, they're 12. And most crimes committed by 12-year-olds, even if they're serious, are handled in juvenile court."
As we previously reported, Geyser and Weier told authorities they stabbed the girl — who is currently "healing more quickly than anticipated," according to her parents — 19 times on May 31 after becoming big fans of the Slenderman character on the horror-themed website creepypasta.wikia.com.
Currently charged as adults, the pre-teens faces up to 65 years in custody in connection with the incident.
Watch the video on RadarOnline.com
As we previously reported, the character's creator, writer Eric Knudsen, said he was "deeply saddened" in learning of the stabbing.
Watch the livestream of the court case
youtube
We'll keep you updated on the latest in this story, right here on Radar.