'Slenderman' Inspires Second Attack In 13-Year-Old's Knifepoint Assault On Mother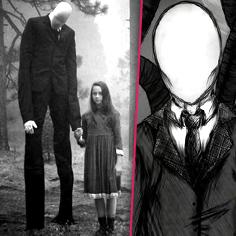 The "Slenderman" has been linked to yet another violent incident involving an adolescent girl, as a Hamilton, Ohio woman claims her 13-year-old stabbed her multiple times to pay homage to the fictional horror character that made headlines last week for purportedly inspiring the gruesome stabbing of a young girl by two 12-year-old girls, who told police in Wisconsin they did it to gain favor with the character.
Article continues below advertisement
"I came home one night from work and she was in the kitchen waiting for me and she was wearing a mask — a white mask," the woman — who said she suffered nicks to her face, neck and back — told Cincinnati's WLWT-TV. "She had her hood up and had her hands covered with her sleeves and the mask."
The woman acknowledged her daughter has shown mental issues in the past, including writings and drawings of a macabre nature, but said she'd never expected a meltdown of this magnitude.
In her etchings, the mother said her daughter "made reference to Slenderman and also made some references to killing and even created a world for Slenderman in that game, Minecraft."
Watch the video on RadarOnline.com
youtube=https://www.youtube.com/watch?v=wqav90NSYNY&w=560&h=315
The mother said the lesson to take from the incident is that parents "do have to police what they do and what they read."
Article continues below advertisement
The child was in the county's juvenile detention center as of Sunday.
As we previously reported, the 12-year-olds, Morgan Geyser and Anissa Weier, told authorities they stabbed their peer 19 times so they could act as his "agents" after becoming big fans of the character via the horror-themed website creepypasta.wikia.com. The duo faces up to 65 years in custody, as they're charged as adults, with attempted first-degree intentional homicide, in the incident.
Last week, the writer who created the character, Eric Knudsen said via a rep that he was "deeply saddened" by hearing about the stabbing.
We'll keep you updated on the latest in this story, right here on Radar.