Let Them Eat Cake! Melissa Gorga Dishes About The RHONJ Kids On Bravo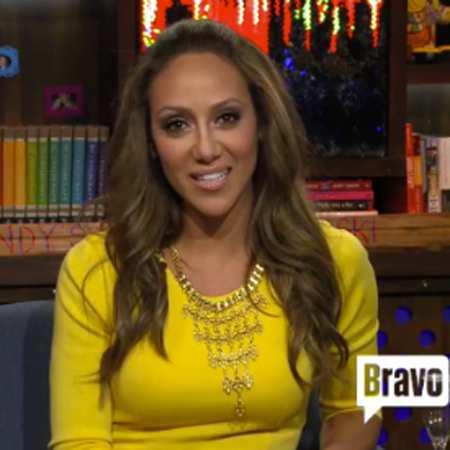 The Real Housewives of New Jersey star Melissa Gorga wants viewers to know that she let her kids eat cake before storming out of the party her arch nemesis, Teresa Giudice, threw for her daughter Gia's 12th birthday.
Fans of the Bravo show saw another distressing Jersey display of family disharmony on Sunday night after Teresa accused sister-in-law Melissa of not visiting Teresa and Melissa's husband Joe Gorga's father after he was rushed to the hospital for pneumonia. Melissa denied it and the two women had a nasty spat right in the middle of Gia's party!
Article continues below advertisement
The incident caused Melissa to flee the birthday bash, but the housewife said when she joined host Andy Cohen on his Sunday night Watch What Happens Live talk show, "I did stay through all the madness, and after everything went on, I did let my kids have cake. Of course they stayed for cake. I would never let them leave and not have the birthday cake!
"Let it be known they had cake -- and then we got out of there!" the reality wife laughed.
Later, Melissa explained to Andy that Teresa and her attack dog friend, Kim D., were wrong to argue with her because she DID visit her father-in-law in the ICU. However, "the timing was odd. When they first came at me, I couldn't even think of when, where, and why. Joe had been in the hospital with the flu when my father-in-law was in the hospital. So I waited two days, and then I went so I obviously can't count. If you really do add it up, it really is three or four days. I didn't know why there were so many questions about...the hospital and when and where. I went. Of course I went. I would never not go!"
Article continues below advertisement
When Cohen asked Melissa about Kim D. being at the party, Melissa said sarcastically, "Yes, isn't that wonderful?"
More seriously, Melissa commented, "We're all in a much better place now but at the time, it wasn't so wonderful."
Melissa wasn't pleased with Kim D. at the RHONJ reunion, and disclosed to Andy on Sunday night, "She actually came to Joe and I and apologized and said she was in a bad place and she understood what she was doing and Joe had also apologized for the way he spoke to her that day so we've come to a truce."
As RadarOnline.com has previously reported, Teresa involving the children in her family feud has stirred controversy this season. And fielding a viewer question about how she feels when Teresa's kids talk about her on RHONJ, Melissa said, "I never blame it on the kids. It goes in one ear and out the other when it comes to the kids. They're harmless. Half the time they don't even understand -- this is a very complicated adult situation and I feel like half the time they don't even understand what's going on or what they're really saying."
Article continues below advertisement
Surprisingly, Melissa admitted that Real Housewives of Atlanta star NeNe Leakes was right when she said she should respect Teresa for being on RHONJ first.
"In a weird way, I do agree," she said. "The veterans are the veterans, you need to take your hat off to them. But at the same time, I've had dinner with NeNe and we've had the best time. I know that she's heard my side and agreed with me many times as well."
When a viewer asked Melissa why she objected to Caroline Manzo advising Joe Gorga about the family feud, the RHONJ beauty said, "Now, looking at it, it doesn't bother me, I realize she was trying to help. I absolutely love Caroline, I love her kids. She's always come to our rescue and actually helps us a lot. I think I was more insulted that I wasn't involved in the conversation. I wanted her to help me, too, because I'm the one who needs the help! I'm lost over here!"
Article continues below advertisement
Melissa also addressed an embarrassing moment on last week's RHONJ, when a prospective buyer of her and Joe's mansion noticed part of the bathroom sink was falling apart. According to Melissa, it wasn't as bad as it looked.
"Obviously, Joe put his heart and soul into that house. He built it. They showed the vanity that was in the playroom bathroom, that I had ordered online, and when it came in, Joe was like, this is such a piece of crap, I'm throwing it in the kids' playroom bathroom and then the kids broke it--it really was a piece of crap. But I mean, I have slate roofs! You're looking at the broken vanity? Whatever!," Melissa said, rolling her eyes.
In one of Watch What Happens Live's typical crazy endings, Joe joined his wife on the show in honor of Father's Day to play a game called "Dadliest Catch."
Melissa and her fellow guest, Bravo star Tabatha Coffey, threw 30 cannoli into the "dad jeans" Andy gave Joe for the occasion.
radar_embed service=bravotv src="http://www.bravotv.com/video/embed/?/_vid2655227" width="400" height="225"