Reeva Steenkamp's Parents Make Tearful Plea: Come Clean, Oscar Pistorius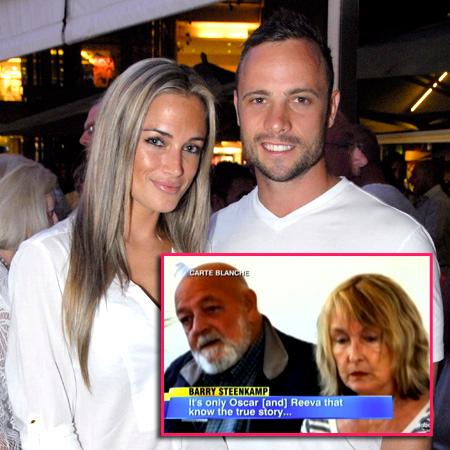 Reeva Steenkamp's parents Barry and June, in their first broadcast interview, said it's time Oscar Pistorius "come out with the honest truth" about the Feb. 14 shooting that left their beautiful daughter dead at 29.
"It's only Oscar and Reeva that know the true story," Barry told South African TV show Cart Blanche Sunday, the same day he told local newspaper Beeld that Pistorius, 26, must "live with his conscience" if he's guilty.
Article continues below advertisement
June told the TV show how authorities reported the tragic news to her on Valentine's Day, first asking if she had a daughter.
"I said, 'Yes,' and he said, 'There's been an accident, and she's been shot.' And I said, 'All I want to know is if she's alive or she's dead.' And he said, 'I'm sorry to have to tell you, but she's dead,'" June recalled.
Watch the video on RadarOnline.com
The couple did not comment on Pistorius getting released on bail Friday, ABC News reported, adding that family friends said the Steenkamps are conflicted on how to feel about Pistorius as they grieve over losing their child.
Pistorius gained international fame as the first-ever double-amputee runner in Olympic competition, garnering the nickname, the "Blade Runner."
|
|