Police: Teenage Bully Bragged She 'Didn't Give A (Bleep)' Victim Killed Herself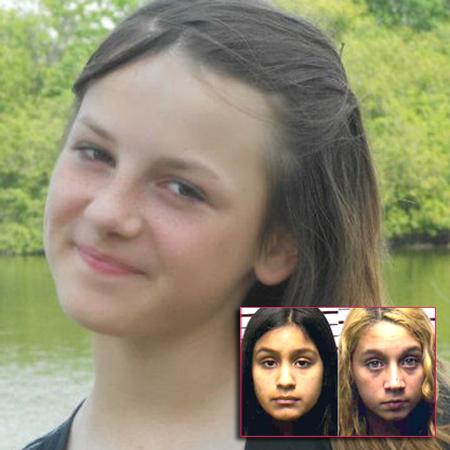 Police said two Lakeland, Fla. girls, Guadalupe Shaw, 14, and Katelyn Roman, 12, have been arrested in the suicide death of Rebecca Sedwick, a 12-year-old girl they bullied, adding that the two were taken into custody, and later released, after learning that Shaw admitted in a Facebook post to tormenting Sedwick, and bragged that she "didn't give a f**k" about her death.
The accused bullies, who were officially arrested on charges of third-degree felony aggravated stalking, were identified by Tampa Bay's CBS affiliate WTSP.
Article continues below advertisement
Polk County Sheriff Grady Judd said that Shaw's message read, "Yes, I bullied Rebecca and she killed herself but I don't give a ...' and you can add the last word yourself." (Her actual post, verbatim: "Yes ik I bullied REBECCA nd she killed her self but IDGAF.")
Shaw relentlessly bullied Sedwick when they attended Crystal Lake Middle School, and recruited Roman into doing the same, Judd said. The girl was "very cold, and had no emotion at all upon her arrest," he added.
Officials said up to 13 other girls might have been involved in the abuse of Sedwick, who jumped off a tower to her death Sept. 9.
Shaw denied writing the message, saying her Facebook page was hacked.
Asked about the hacking alibi, the sheriff said, "Of course, we don't believe that."
While reporters who visited the trailer Shaw's family lives in received no response Tuesday, Shaw's parents both spoke to ABC, standing behind their daughter and her denial.
Watch the video on RadarOnline.com
"I would check her Facebook every time she would get on it," Shaw's mother said, while her father said, "If we saw something that was not right, we would've addressed it and it would've ended right then."
Judd noted in his news conference Tuesday, "I'm aggravated that the parents aren't doing what parents should do. Responsible parents take disciplinary action.
"If we can find any charges we can bring against their parents, we will."