The Happiest Place On Earth? Misery Loves Company In The O.C., As Tamra Barney Cries Her Custody Battle Is 'Hell,' While Shannon Beador Sobs, 'My Marriage Is Falling Apart'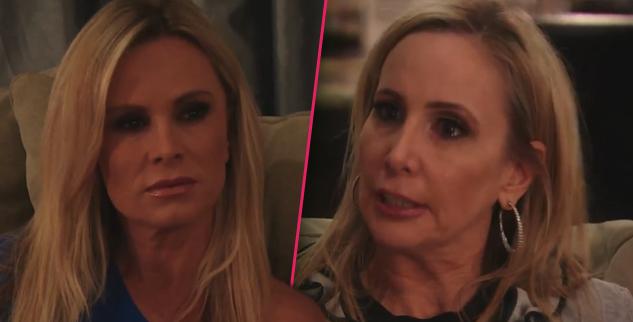 Tamra Barney and Shannon Beador had a pity party on The Real Housewives of Orange County Monday, with both breaking down in tears about marital
strife and how it has impacted their kids.
At the end of Monday's episode, Beador visited Barney and talked about how her marriage with husband David was collapsing.
'I feel so pathetic when I have to ask or beg or bitch and complain all the time about why he's not spending time with me, Beador cried to Barney. When I feel like I'm living alone, I'm a b*tch to come home to. It's like a downward spiral. It just starts with, I wish that I felt more important.
Article continues below advertisement
Beador revealed she came from a broken family and so did David, and she didn't want their three daughters to go through what they did.
Barney then confided in Beador about her own broken marriage to Simon Barney.
'My breaking point was, I kept saying in my head, 'I'm going to stay with him until it affects the children,' and that's what happened,' the fitness entrepreneur said. 'We started fighting, screaming, yelling in front of the children and that's when I said, 'I gotta go.'
The blonde CUT owner then told the cameras, crying, 'Even when you know your marriage is over, it¹s the most horrible feeling ever.'
Beador sighed, 'I feel like my marriage is falling apart.'
Earlier in the show, Beador had a cardio exam, saying, The times David and I do argue, it hurts my heart.
Beador told the cameras because she and her husband don't communicate well, they write things down and David had sent her an email, saying,'He should move out for awhile. This is rocking my world because this is not supposed to happen.'
Article continues below advertisement
Watch the video on RadarOnline.com
'What do I have to do to make this better? Divorce is not an option.'
Meanwhile, when Barney met with Heather Dubrow, she told her how angry she was that Dubrow had talked to her husband Eddie in a previous episode about them potentially having kids.
Dubrow apologized and Barney said, 'I would love nothing more to have a child with Eddie, just something that we have of ours that nobody will ever take away.'
Then Barney told the cameras what Radar readers have known for months, saying, 'I'm currently going through some custody issues with my ex.
'I'm not sleeping at night. My whole life is consumed with this and it's probably one of the most devastating things I've ever gone through in my life. I cry probably every single day and it's hell.'
Also on Monday's show, viewers saw Vicki Gunvalson's daughter Briana learn she was having another baby boy, and Barney get angry at Dubrow over a Good Day L.A. segment gone awry.
Article continues below advertisement
After the previous argument over the morning show, Barney and husband Eddie Judge appeared on the morning show to promote their CUT Fitness business while Dubrow was a guest host. Dubrow seemed unprepared for the segment and Barney fumed that she was cold and rude.
Later when they met for lunch, Barney went off on Dubrow, saying, 'I told Eddie, She didn't want me there.'
But after their argument at Beador's party, Dubrow said she thought Barney would call and text her to apologize.
'Really, Heather?' Barney replied.
Watch the video on RadarOnline.com
'I feel like you wanted to publicly punish me,' Dubrow said.
However, Dubrow gave Barney a hug and told the blonde beauty to cut her a little slack.
Before their lunch ended, Barney told Dubrow that Beador was like the Tamra of four years ago!
'Shannon has a marriage that's falling apart,' she said. 'Shannon drinks way too much. Shannon is a sad, sad soul.'
Barney also told the cameras she knew that David's email to Beador suggested 'he wants a divorce.'