The 'Good Day L.A.' Feud Won't End! The RHOC Ladies Tell Their Sides Of The Story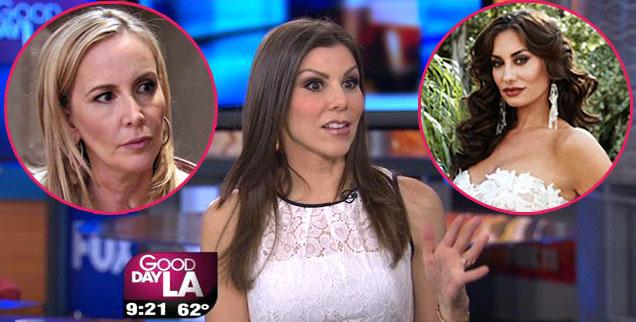 Article continues below advertisement
"I really think it's time to put the past in the past and live in the present," Lizzie writes in her blog post.
But Heather wants to tell her side of the Good Day L.A. story. Heather also took to her blog to explain exactly what happened that day when she was supposed to promote Tamra's gym, CUT Fitness. Heather claims that the producer was very close with a PR rep of a different gym, and that's why she couldn't mention Tamra's on the air that day.
Out of respect for her friend, Heather writes that she explained the situation to Tamra, and Tamra gave her the A-OK, only to have a problem later when the episode aired.
"I told her, 'This will look weird. These are people in my world and you will think this was my doing, but it's not.' She was cool, until she saw the segment. Then she got very upset and I honestly didn't know how to react. I thought I had handled it appropriately," Heather writes.
Article continues below advertisement
Heather says that her only other option would have been to turn down the co-hosting job, which she assumed Tamra wouldn't want her to do because of the great opportunity.
"Was I supposed to apologize at this point for taking the job? I thought I had done my due diligence with her," she writes.
Shannon, on the other hand, also wanted to help Tamra and Heather resolve their issues, but found herself getting tangled up in her own Heather drama. Heather allegedly asked Tamra to "pick a side" between her and Shannon, which came as a surprise to Shannon because she had just gone to lunch with Heather to discuss everything.
In explaining Heather's beef from her point of view, Shannon hints that jealousy might play a role.
"I do not like to argue and it is especially upsetting for women to bicker like this," Shannon writes. "I don't understand why Heather would say such a thing. People are capable of having multiple close relationships."