Exclusive
Real Hazing Of Orange County! 'RHOOC' Newbie Lizzie Rovsek Reveals Veteran Housewives 'Picked On' Her: 'I Had To Defend Myself From The First Meeting!'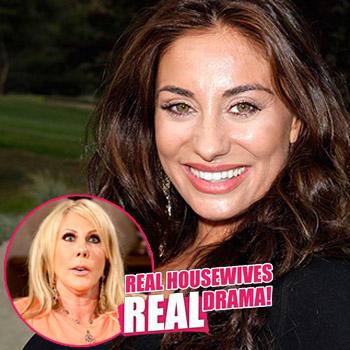 Article continues below advertisement
Rovsek: I want to say that it's been an adventure. When you first start filming with the cameras, it takes a little bit to warm up to, and after a while, you kind of forget that they're even there half of the time. But it has been fun for my husband Christian Rovsek and I and our two kids Preston and Kingston. I've enjoyed getting to know the other ladies and all the adventures that we've been on.
Radar: What was the toughest part about being one of the new girls this season?
Rovsek: I would say the toughest part was just kind of the hazing you get from the veterans. I really didn't expect the hazing. I didn't really expect to be picked on like I did in the beginning. I found myself standing up for myself in the beginning right off the bat. I had to defend myself just from like the first meeting.
Article continues below advertisement
Radar: Do you think it is because at 33, you're younger than the other OC housewives, and that the women were insecure?
Rovsek: I don't know. Maybe. The thing is, I'm not very confrontational with other women. I don't fight with other women typically. I don't pick on people by the way they look or by their names, just very catty stuff like that. I was just really caught off guard that that those were the things I was picked on about. It wasn't typical for me.
Radar: Who lead the attack on you?
Rovsek: There was just one. I don't know what I can say. I guess you can wait and see. It's pretty much right off the bat.
Radar: Was that difficult to deal with?
Rovsek: No. I'm not going to start drama, but I'm very quick to defend myself. I feel like I have a very strong character and integrity, and I don't have a problem jumping in and saying what I need to say. That's not a problem for me, but I didn't realize that I would have to do it immediately.
Article continues below advertisement
Radar: What were your opinions on meeting the other ladies?
Rovsek: Meeting Vicki was like a roller coaster. It was like good, and then crazy and then I found her very hard to read. I consider her a roller coaster. It was great, bad, all the above."
Radar: How did your husband Christian feel when you brought up the idea of going on Housewives?
Rovsek: We were both hesitant because I've seen the shows before, and I see the drama that takes place and the cattiness between women and that's not something that's normal to me… Then we kind of thought, 'This door is open for a reason and things happen for a reason. Why would God put this in front of us if we maybe we shouldn't explore this adventure?' So we decided to do it.
Radar: I read online that you guys are talking about having another baby. Is that in the works right now?
Rovsek: We definitely want another baby. That's a definite 100% thing. We're not sure exactly.
Radar: Are you guys actively trying?
Rovsek: No. Every time that we even say the word, I get pregnant. There's no trying. It just happens. When we're ready, we're just going to say, 'Let's go.' Maybe next year.
Radar: Anything else we should know about you and the upcoming season of RHOOC?
Rovsek: I'm a very honest person. I'm a very real person. I'm very fun and outgoing. And I stand up for myself and I stand up for what I believe in. And to my friends, I'm probably one of the best friends that a girl could have. I'm a very good friend.