RHOBH Trade Barbs Over Love, Liquor & Lies! Kyle & Kim Richards Tear Into 'Mean Naughty Little Girl' Brandi Glanville!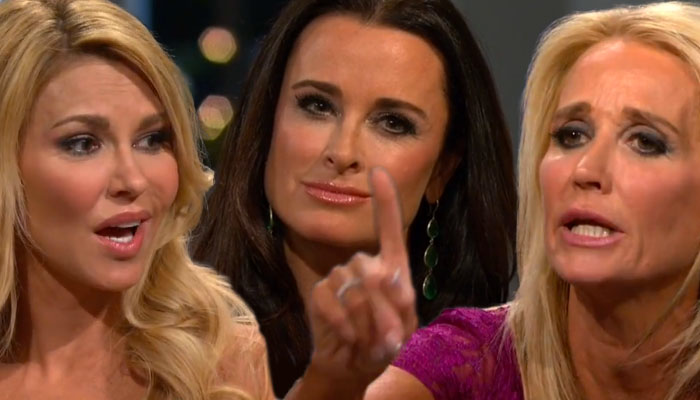 The claws are out for the epic two part The Real Housewives of Beverly Hills season 3 reunion and RadarOnline.com has a sneak peak at the drama packed second episode.
Holding nothing back for the Bravo special the catty cast are seen pointing fingers, swearing and crying as they brand each other two-faced, liars and alcoholics.
With the whole cast, minus Adrienne Maloof in the hot seat, host Andy Cohen touches on all the hot button issues including whether Taylor Armstrong has a drinking problem and if she is in love with her new, married beau.
Article continues below advertisement
But the show is stolen by the fiery face-off between the Richards sisters and everyone's favorite love to hate Housewife, Brandi Glanville !
Kyle admits she feels like she has been replaced by Brandi and things get really ugly after her big sister, Kim attacks Glanville, calling her a "mean, naughty little girl".
Not to be left out, newbie Housewife, Yolanda Foster, rises to Brandi's defense, unleashing her wrath on Kyle and calling her two-faced as Brandi looks on smugly, laughing at their bitter battle of the words.
Cohen addresses the absence of Adrienne from the reunion taping , saying filming the show had become "hard" for her after Glanville threatened to make public a Maloof family secret, before going on to publicly maul her for skipping out!
"This season was hard on Adrienne," Cohen says. "As you all know, a secret about her family was revealed by Brandi and from that moment on Adrienne refused to speak directly about it.
"We know that frustrated all of you in the audience, it frustrated all of us too. Not only is she absent tonight, but she won't be on the show next season. Adrienne Maloof's final act as a Housewife is not showing up tonight."
RadarOnline.com was first to report that the businesswoman will not be returning for season 4 and in a bombshell move declined to participate in the heated show.
You can watch the drama packed reunion clip right here on RadarOnline.com — and you can catch the full episode March 25 on Bravo.