Exclusive
The Real Reason Adrienne Maloof Was Fired From Housewives -- Brandi Glanville Was Involved, Of Course!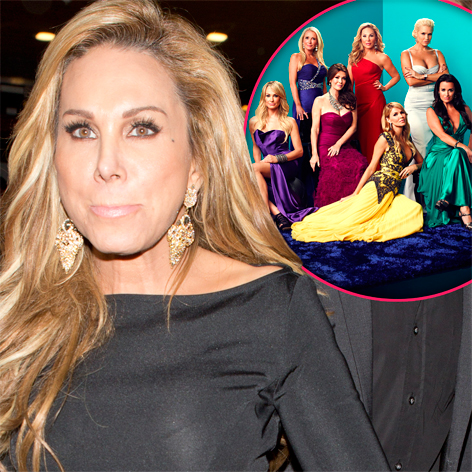 Article continues below advertisement
Maloof's attorneys went postal on Glanville and Housewives producers after Brandi taunted Adrienne about her twin sons being born to a surrogate - threatening to sue if any mention of the subject appeared on the show, or in the media - however, just weeks later the 51-year-old opened up about the subject herself during an interview with Life & Style.
"I would think Brandi, being a single mother, would have a heart and understand my feelings, where I'm coming from," Adrienne told the magazine, going on to explain that she had planned to tell the 6-year-olds sometime in the future that she did not give birth to them herself, when they were fully able to understand. "Brandi took away something so precious from our family," Adrienne said.
"Adrienne's lawyers came at Bravo with all guns blazing after Brandi began mentioning the surrogacy of her twin sons," a source tells RadarOnline.com. "She didn't want that aired on television. Producers of the show spent hours going over footage and editing it out. It cost a lot of money and took a lot of manpower to do. For Adrienne to then give an interview to a celebrity magazine about the surrogacy was a slap in the face to producers to say the least!
Article continues below advertisement
"It rankled a lot of feathers and was ultimately the reason why Adrienne was fired. Bravo had no legal obligation to edit out all the mentions of the surrogacy, but they wanted to do the right thing for Adrienne and her family, so they obliged."
However, a source close to Maloof maintains she left the show of her own accord!
"It was her decision to leave. She wasn't fired," the source insists. "Adrienne was tired of being portrayed as the mean girl, that just isn't who she is."
The third season of RHOBH closely chronicled the feud between Maloof and Glanville, but viewers were left bemused - wondering what was at the heart of it.
Meanwhile, Maloof's lawyers attempted to silence Glanville on the subject, sending her a cease-and-desist letter ordering her not to talk about the matter ever again, but the outspoken reality star refused to sign it!
"If I sign a paper saying I'll never talk about you again, I'm probably going to fail," Glanville told Maloof, according to Life & Style — and she defended making the comments in the first place.
"I don't think there's anything wrong with what I said. We all knew it already," Brandi said. "She would always lie about it. It's not that big of a deal. They're still your children, just somebody else had to carry them."