Lisa Vanderpump Denies Stirring Rumors Kyle Richards' Husband Cheated, Claims To Be Housewife's 'Most Loyal Friend'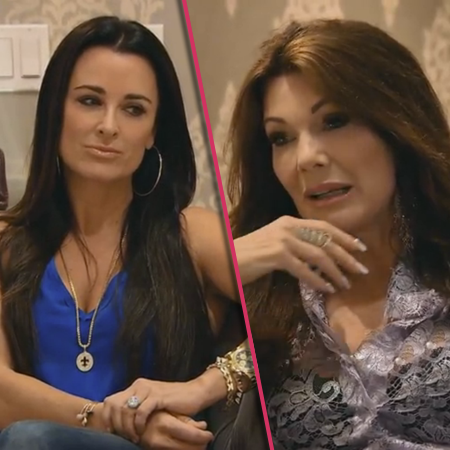 During Monday's Real Housewives of Beverly Hills, Lisa Vanderpump continued to come under fire from her co-stars.
While shopping for the ladies upcoming trip to Puerto Rico, Kyle Richards confronted Lisa once again for inadvertently giving breath to the cheating rumors plaguing her family.
"I want to move forward. It was hurtful. I don't want to keep bringing it up," Kyle pleaded to Lisa, who had brought up the about allegations that Mauricio Umansky had been cheating on her -- in front of their daughter.
Article continues below advertisement
"Ken and I have been so supportive," Lisa stated.
"I want to hear Lisa say she's sorry. This is what makes me so upset," she told the cameras.
Frustrated, Lisa fired back: "I don't need to justify my position. You'll never find a friend that was more loyal to you. Don't forget that, missy!"
Later, Brandi Glanville tried to avoid Lisa at Gigi's glamorous going-away party.
"We are going to smile and be really nice and pretend like I'm still under her control," Glanville told the cameras, referring to her belief that she'd turned into Lisa's mouthpiece.
Brandi ranted that she believed Vanderpump purposely stirred drama, and continued to bring around Eddie Cibrian's mistress Scheana Marie, to make her uncomfortable.
"My plan is to avoid Lisa at all costs," Brandi said.
Unable to stir any drama with Brandi, Lisa decided to intervene when Kyle gave a peace offering to Carlton.
Talking to Carlton, Lisa claimed the ring didn't match the original necklace that Kyle gave her. Carlton then declined to take the ring and left the party.
Article continues below advertisement
"Lisa is trying to stir the pot," Brandi said. "She doesn't need to meddle in everyone's f*cking business."
When Kyle confronted Lisa about her comments about the ring, Lisa backtracked, which didn't sit well with Kyle.
"Here she is telling Carlton don't take it, and then coming to me saying it's a peace offering," Kyle said. "She's playing both sides. Don't play these games."
But Kyle's own agenda was put into question after she decided not to invite Carlton Gebbia on their Puerto Rico trip after she received strange, spooky words on her computer screen saver.
"It really freaked me out," Kyle said. "I tried to be friendly with Carlton, but not everyone is meant to be friends. For me, I can't be around any negativity like that so I'm staying away."
The conversation took a sad turn though, when Kyle mistakenly revealed to the group thatJoyce Giraud 's father has died.
"Joyce's dad died yesterday," Kyle said, later clarifying.
But Joyce feels betrayed, and plans to confront Kyle on next week's episode.
The Real Housewives of Beverly Hills airs Monday nights at 8/7c on Bravo.