The Tension Thickens: Kyle Richards Declares Lisa Vanderpump Wasn't Supportive In Cheating Scandal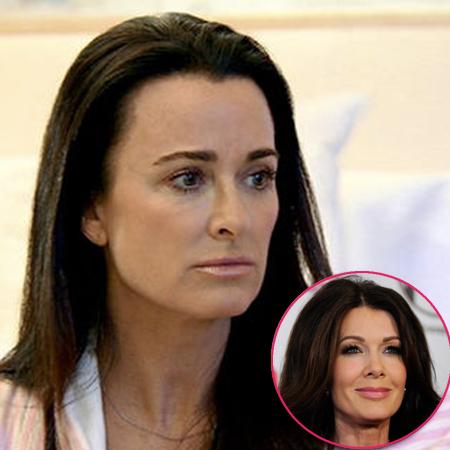 Kyle Richards is expressinh her growing unhappiness with Lisa Vanderpump after the British-born reality star inadvertently gave breath to the cheating rumors plaguing her family.
Kyle, in a new Bravo blog, lashes out at pal Lisa's passive-aggressive refusal to denounce news reports implying that her husband, Mauricio Umansky, has been unfaithful to her.
"Lisa brings up the tabloids once again and so clearly wants to cast doubt on my marriage and Mauricio's integrity while pretending to be supportive," Kyle wrote. "You aren't being supportive if you're saying, 'Well, I don't know for sure,' and putting that out there."
Article continues below advertisement
Kyle praised Lisa's husband, Ken Todd, for sticking up for Mauricio, and ripped Lisa's assertion that she'd appear "ridiculous" if she publicly supported Mauricio, as "one never knows" the truth of the matter.
"There have been many stories that I have HEARD," Kyle wrote. "Of course you don't KNOW for sure, but when you know someone you have a pretty good idea of who they are -- AND we all know what the tabloids have done to all of us.