Was Porsha Stewart Kordell's 'Beard?' Kenya Moore Delves Into Uncomfortable Area On 'RHOA'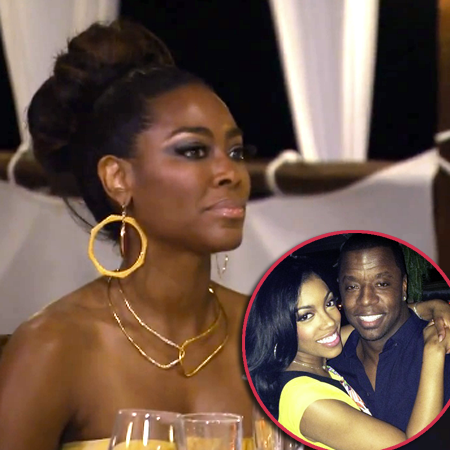 Porsha Stewart has made gay innuendo at former husband Kordell Stewart all season during The Real Housewives of Atlanta, and on Sunday night's episode, Kenya Moore believed Porsha implied she'd been "the beard" for the ex football player.
"He was always the celebrity, he had that before me -- but his celebrity was tainted," Porsha told her co-stars during the cast's getaway in Mexico. "I told him that I had a plan for us and that my plan was to be the ideal couple and that whatever was in his past, that was nasty, that hurt him, all those rumors, I would help him erase that.
Article continues below advertisement
"I did that for him."
Kenya asked why his image was tainted, but Porsha then refused to elaborate.
"I'm not trying to be messy," Porsha said.
But Kenya pounced on Porsha, telling her in front of the entire RHOA cast at dinner, "You're saying, 'I signed on to be his beard.'"
Porsha said, "No -- oh my God!"
She then said that "he was wounded" and she helped him through it.
"I respect Kordell. I loved him."
But Kenya muttered -- again -- that she was his beard!
And the other RHOA stars also had questions on the Sunday night show, as Cynthia Bailey's husband Peter Thomas said Porsha made the marriage sound like a PR campaign!
The controversy all started after Kordell made his return to the show, meeting with his pal Peter to talk about his split from Porsha.
"What happened?" Peter asked.
Kordell blamed Porsha's mom, Diane, for meddling in their relationship.
Article continues below advertisement
"It's mom in the background," taking her own insecurities and "injecting it into my wife," Kordell said.
He remembered: "Mama sitting in my master bedroom eating a large pepperoni pizza."
And he called Porsha an absentee wife: "She's so disrespectful. She'd leave five to ten days a time. She goes to her mama's house."
Kordell denied to Peter Porsha's claim she had learned about him filing for divorce via Twitter.
"She asked me to file for divorce," the ex-football star, who played for the Pittsburgh Steelers and Chicago Bears, said, blaming her "victimized mentality" for the reports.
At the time the episode was filmed, the Stewarts' divorce wasn't yet final.
READ THE DOCUMENTS: Porsha Stewart's Bank Account Garnished
And Kordell told Peter although there hadn't been a prenup, it was Porsha's fault she wasn't going to get property in the divorce.
Article continues below advertisement
Before they married, he said, "because she didn't pay her taxes, she lost her condo."
So none of the property when they were married was in her name, Kordell claimed.
"Through that process of her not being able to be responsible, her name didn't go on this house. I'm good," Kordell told his buddy. "I can't let a knucklehead come in and destroy what I've established. I will always love that girl.
"But I love her enough to let her go to what she gotta do. I'm at peace in my heart."
Article continues below advertisement
When Kenya went to visit her new BFF, Marlo told her she hated what had happened with NeNe at the games competition organized by Cynthia.
"She walked off like I was scum of the earth," Marlo said.
Marlo also revealed that she, Cynthia, and NeNe did a three-way phone call and NeNe let her know if she was a friend of Kenya, she wouldn't be friends with her.
Marlo told Kenya NeNe's whole attitude changed when she lost her job on the NBC sitcom, The New Norml.
And her other show doesn't help, NeNe's former friend said.
"She gets two seconds here and there on Glee," Marlo sneered in a major diss. "She's a fake and a phony."
Still, after hearing Marlo fume, Kenya went ahead and invited NeNe -- and the rest of the RHOA gang -- on a Mexican vacation.
And even Kenya's nemesis, Phaedra Parks, and her husband, Apollo Nida, who has accused Kenya of making a pass at him, made the journey down south.
Article continues below advertisement
Extravagance! The Secret Life Of Socialites Revealed
But Porsha took center stage as Peter told her on the way to Mexico that he had spoken to Kordell.
"He said, 'I love my wife,' " Peter said.
Watch the video on RadarOnline.com
Porsha said she loved him, too, but didn't like the way she was treated.
"I plan on signing the documents and moving right along," she told him.
Later, Cynthia spoke with the TV beauty privately to make sure Porsha was okay with Peter seeing Kordell.
Porsha complained to the cameras about Kordell "talking about my finances. There are some things I could have said -- maybe should have -- said about Kordell, but I don't benefit at all from mudslinging."