Flirting With Divorce? Phaedra Parks Gives Husband Apollo Nida The Stink Eye As He Cozies Up To Kenya Moore On 'RHOA'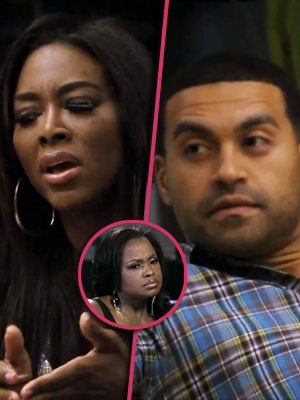 Article continues below advertisement
On the show, there has been plenty of evidence that Phaedra isn't happy in her marriage.
And Sunday's episode, titled "Flirting with Disaster," showed Phaedra wasn't able to keep her troubled husband -- who is facing fraud charges --away from sexy Kenya.
While on vacation with the whole gang in Mexico, Kenya and Apollo got into a intense discussion about whether he could have slept with the single beauty if he'd wanted to.
Apollo dismissed his friends Todd Tucker and Peter Thomas so they could have a private chat. Kenya said she was a fan of Apollo's until he tried to attack her by saying she had texted him inappropriately and propositioned him at a Los Angeles hotel.
"The stuff you were throwing out there didn't happen," she said. "I have been completely respectful toward you. I never offered anything to you, Apollo."
Article continues below advertisement
But the RHOA husband insisted he could have slept with her if he'd wanted to.
Faked Scenes, Lies & Payoffs – The Ultimate Guide To Reality TV Shows
"Any man could fall victim to it," he mused, and then cited, "My physicality and your physicality."
Kenya insisted, "I have never crossed the line.
"I just need you to stop lying on me."
At the restaurant in Mexico, Phaedra suddenly appeared and growled to co-star Kandi Burruss, "What is he doing over there with her?"
Walking over to Apollo and Kenya, Phaedra demanded, "What's going on here?"
Earlier in the episode, Kenya had ordered everyone to take their clothes off and swim in a natural spring in a underground Mexican cave.
She stripped down to a yellow bikini and Apollo undressed to his shorts while Phaedra also participated in the swim to keep an eye on her man.
But Bravo camera's caught Apollo ogling Kenya's bootylicious body as walked out of the cavern!
Article continues below advertisement
In another Sunday storyline, Kenya told her friend Miss Lawrence of Porsha Williams, who divorced football player Kordell Stewart, "She had an arranged marriage with Kordell and she was basically hired to be his beard."
Kenya said, "It sounds like he wanted her to be quiet ... he thought he was getting a trophy wife and she wasn't much of a trophy."
The pageant queen added, "At this point, I'm tired of people lying," meaning Porsha and Apollo!
People We Love! Hollywood's Most Inspiring Rogues, Renegades & Rule Breakers
Meanwhile, Kandi told the group about her upcoming nuptials to fiancé Todd, "We haven't started making plans for an actual wedding," because problems with her disapproving Mama Joyce!
"I'm hoping once we get married the fight is going to be over," Kandi said.
Todd said Kandi was being too passive and needed to drag Mama Joyce into mother/daughter therapy!
Article continues below advertisement
Watch the video on RadarOnline.com
While Porsha and Phaedra took a relaxing dip in a pool together, Kenya brought the other ladies to a healing circle.
Kenya cried and said the Mexican shamans would do something to make her fertile.
She said the shaman would bless Kandi, too, and Kandi said she and Todd wanted a son.
"This is going to be able to help me have my future child," Kenya concluded after the fertility ceremony.
"I feel something special is happening and I'm headed in the right direction."
Opening up more than she ever had, Kenya sobbed to the other housewives, "I feel like I push guys away.
"I wanted the husband first. All of you guys had children before you got married."
But later, Kenya reverted to her usual flirty form as she joined the guys for cigar smoking, tequila shots, and a heart-to-heart with Apollo that had his wife outraged by the episode's end.