OUCH! Yolanda Foster Slams Adrienne Maloof: 'She's Very Insecure, A Nobody'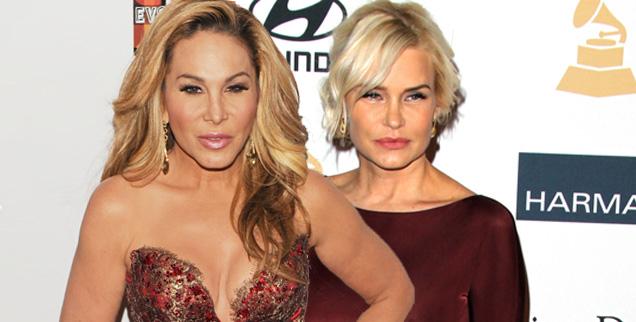 Yolanda Foster doesn't like Adrienne Maloof, and made that much clear during Monday night's episode of The Real Housewives of Beverly Hills as she shot the breeze with another Adrienne enemy, Brandi Glanville.
The segment began as Brandi thanked the Dutch beauty for defending her in her feud with Adrienne during an awkward conversation with Kyle Richards at a Las Vegas dinner party.
Yolanda then took the occasion to rip Adrienne, painting her as a rich girl bully who uses her wealth to "intimidate" others.
Article continues below advertisement
Yolanda said that Adrienne "is very insecure woman," and that if she had guts, she would directly confront Brandi about their ongoing rift as opposed to filing a lawsuit. Yolanda said that while the $10,000 legal fees might be pocket change to Adrienne, they can cripple those with less of a war chest - i.e., Brandi.
Yolanda advised Brandi to ignore Adrienne altogether at an upcoming function Brandi was stressing about, saying Adrienne's only claim to fame is her family's name and wealth.
"Who is she really? Who is Adrienne in this world, in the big picture?" she said. "She's a nobody!"
Watch the video on RadarOnline.com
The Real Housewives of Beverly Hills airs Mondays at 8/7c on Bravo.