Oscar Pistorius Murder Trial: Accused Murderer Weeps As Doctor Recalls Graphic Details About Reeva Steenkamp Post-Shooting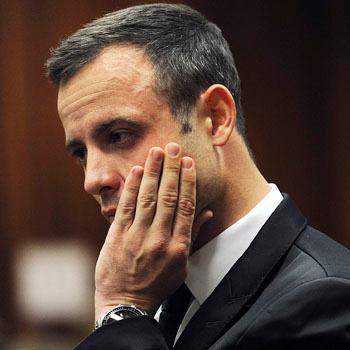 Oscar Pistorius broke down and wept during the fourth day of his murder trial in South Africa's Pretoria Magistrate's Court Thursday, as a neighbor delved into the gory details of his late girlfriend Reeva Steenkamp's death, and we've got all the info for you right here on RadarOnline.com.
Pistorius trembled and, at times, covered his ears as Dr. Johan Stipp recalled the blow-by-blow events in the moments after the double-amputee Olympic runner shot Steenkamp Feb. 14, 2013.
Article continues below advertisement
Stipp, a radiologist, said he heard the shots fired and approached the home, where "at the bottom of the stairs ... there was a lady lying on her back on the floor."
Stipp said Pistorius told him, "I shot her … I thought she was a burglar … I shot her."
Steenkamp's severe injuries at the time in the moments after the gunshots included brain tissue protruding from her head, and bloody lacerations from gunshots on her right leg, right arm, the doctor testified.
"She had no pulse in the neck, she had no peripheral pulse," Stipp said of his efforts to try and revive the model. "She had no breathing movements that she made."
The radiologist said that Pistorius was praying and trying to hold her mouth open in the moments following the shots.
"Oscar was crying, saying 'please let her live,'" he recalled. "He was saying he would dedicate his life to God if she will only live."
Article continues below advertisement
Should Pistorius convicted of premeditated murder, he could be sentenced up to life, with a 25-year minimum sentence. If convicted of murder, he could face up to 15 years behind bars.