Doting Mom Kim Kardashian Shows Off New North Pics, Gushes About Daddy Kanye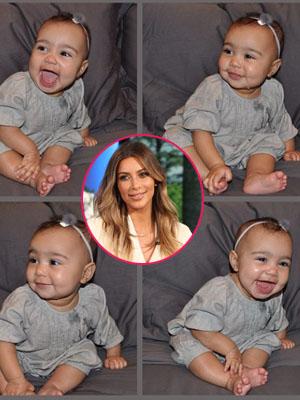 Doting mom Kim Kardashian, appearing on Ellen Friday, showed off new pics of her adorable toddler North, and shared how she and fiance Kanye West are adapting to parenthood, and we've got the details for you right here on RadarOnline.com.
Kim said North, who was born in June, "changes all the time" in appearance.
"One day she'll look like Kanye, one day she'll look like me -- it's so crazy! And her personality is so cute: She is really calm and really quiet."
Article continues below advertisement
Calling the hip-hop icon "the most amazing dad," she told host Ellen DeGeneres how he never goes a day without his daily dose of daughter.
"He just left to go out of town, so I send him a picture and video every day. He's like, 'She grew up so much!' and I'm like, 'Babe, it's been one day. You haven't seen her in a day. Not a lot has changed.'
"But he really is a hands-on dad."
Just how hands-on? The 33-year-old fashionista said that while her baby daddy's "not a diaper-changing kind of guy … if it's an emergency, he will.
"But I love that time -- I know it sounds crazy, but I love my time with her when she's on the changing table," she said of the 7-month-old. "She tries to talk so much and I really enjoy that bonding time when I'm with her."
They Really Did Say It! 50 Outrageous Kardashian Quotes
Kim, making her first appearance on the Oscar host's show in more than two years, also dished on her famous engagement to the rap star in the Bay Area this past fall.
Article continues below advertisement
"That was probably one of the only times I've been surprised," she said. "I usually know everything and I was actually so shocked that he kept that a secret from me. And it was such a good secret."
The reality star added she "truly didn't know" he was going to propose to her "until he got down on one knee."
Watch the video on RadarOnline.com
Asked about adding to her brood, Kim said that while "pregnancy was not a good experience" for her, "It's all worth it in the end, so I would definitely suffer through that" again.
To Ellen's credit, while she did ask Kim about Kanye's recent incident with an 18-year-old man, Kim said she "legally" couldn't speak about it.
For more, check out Friday's edition of Ellen.