Are You Listening, Kanye West? Kim Kardashian Said Baby Daddy Would Be Changing Diapers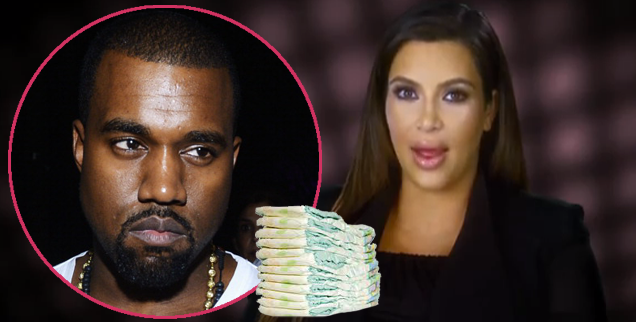 In the midst of a reportedly scripted storyline on Sunday night's Keeping Up With The Kardashians, Kim Kardashian revealed baby daddy Kanye West was supposed to have nighttime diaper changing duty!
On the episode, pregnant Kim's friend, Jonathan Cheban, woke her up at home by imitating a baby crying--and asking how she was going to deal with that.
Kim commented, "I'm going to wake up Kanye and be like, 'Babe.' We already have this whole thing planned. In order to be a good girlfriend, I'm going to need some sleep so he's going to be in diaper duty in the middle of the night."
Article continues below advertisement
The premise of the storyline was that Khloe was sad about being ignored by Kim and Kourtney, who were more interested in talking about baby stuff. After Khloe confided her third wheel status to Kris, her mom suggested they hang out together; they got drunk at a Mexican restaurant and concocted the plan to go over to Kim's house armed with toilet paper, silly string, and shaving cream.
And on the show, fans saw Kim have an apparent meltdown, getting angry at the two and charging, "You vandalized my home."
Article continues below advertisement
But according to Radar's sources, Kim and Kourtney have never ignored Khloe and entire incident was, well, sorry, reality fans--totally scripted!
Also on the Sunday night show, Kris revealed to her kids that she was having a problem peeing in public restrooms. "If I feel like anyone can hear me pee, I get anxiety," Kris said.
Kris told the children she couldn't pee when someone else was in the room. Later, she shocked her youngest daughters Kylie and Kendall Jenner
and husband Bruce by holding it in during an outing--then having to go so bad that she wound up peeing in the bushes by their house. Kylie and Kendall took a cell phone video of Kris sitting on the toilet and posted it on their blog, causing their mom to "ground" them.
https://www.youtube.com/watch?v=NiodxdEZLKs
Later, the girls tried to make amends by recording a bizarre rap song about Kris' shy bladder with their brother Rob Kardashian and friends. In the peace offering, they wrapped, "I want you to know that everybody goes."
Article continues below advertisement
When Kendall and Kylie showed Kris their rap video, Kris laughed and forgave them. Who wouldn't, after hearing lines like, "I've been peeing since the day of birth" and "It's the urination nation"?
Kris said affectionately, "I can't stay mad at Kendall and Kylie."
"Holding your pee is no way to live life," Kendall said. "You've gotta just go with the flow," the young model added, winking at the camera.
Also on Sunday's episode, Brandon Jenner, Bruce's son from a previous marriage, and his wife Leah suffered through conflict because he wanted to release their music EP right away--and she was dragging her feet.
Brandon and Leah played one of their songs for Kim. Brandon said hearing Leah sing the number was "like falling in love with her all over again."
But Leah wanted it to be perfect.
Later, after seeing how Kim had to deal with the paparrazzi following them to a yogurt shop, Leah confided that her life was quiet and peaceful and Kim had "a lot of chaos" in her life due to her fame.
Article continues below advertisement
Kim told Brandon and Leah that Ryan Seacrest had asked them to do an acoustic performance of their music. Leah said she wanted to make more tweaks to their album first.
But Kim pointed out it would be foolish to wait because even her boyfriend Kanye had to release music he didn't think was perfect: "Even when it's on the radio he's like, s--- I should have done this."
Agonizing over the situation, Leah met up with her father Don Felder, lead guitarist for the famed band The Eagles. Leah said she was happy with where her life was right now and she had seen success change people and "it could be the end of everything I love."
Don said she was right to be cautious about that but reassured his daughter that her relationship could weather it.
In a heart-to-heart with Brandon, Leah later admitted she'd put the brakes on their music because she was scared it would wreck their marriage; Leah's folks had divorced when she was 16.
"The most important thing to me is YOU and not my music," Leah told Brandon with tears in her eyes.
Brandon said he cared about their relationship enough to get through anything and "life is too short to be fearful."
After hugs and warm wishes, the two later performed for Kim and other family members at an intimate concert.