Exclusive
No Reality Here! Kim Kardashian Meltdown Over Mom & Sister Wreaking Havoc At House Was Scripted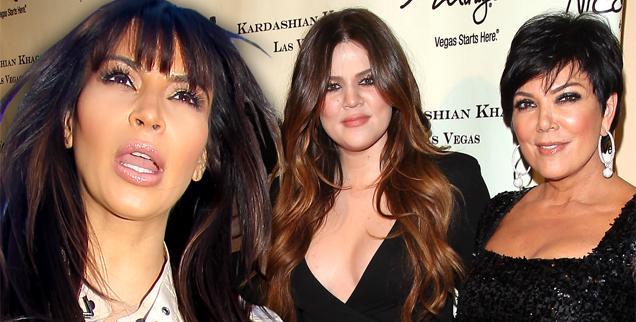 Kim Kardashian's on-camera meltdown after momager, Kris Jenner, and sister, Khloe Kardashian, trashed trees her yard with toilet paper was scripted, RadarOnline.com is exclusively reporting.
The upcoming episode of Keeping Up With The Kardashian's features Khloe and Kris playing a prank on then preggers Kim, and the duo show up to Kanye West's baby mama's house extremely drunk. The pair decide it would be funny to throw toilet paper over the trees and yard at Kim's house.
Article continues below advertisement
How spontaneous!
Well, not exactly.
The entire event was scripted and planned well in advance, RadarOnline.com has learned. "The premise was that Kim and Kourtney were ignoring Khloe as they shopped for baby clothes," a source close to the show told RadarOnline.com. "First, Kim and Kourtney have gone out of their way to NOT ignore Khloe because they know she is struggling to get pregnant. Of course, what is seen on camera is extremely different from what is going on off camera.
"It makes for better television if Khloe feels left out.
"On the upcoming show, Kris decides to take Khloe out for the night to cheer up her daughter. They got wasted drunk and went over to Kim's, which all seemed very spontaneous, but was planned well in advance with Kim fully aware before the prank went down that her house was going to be covered with toilet paper. She was never going to call the cops on her mom and Khloe. It's just insulting that they are trying to pass this off as how they really live their lives."
Article continues below advertisement
This isn't the first time the Kardashians have been accused of faking their reality shows!
As RadarOnline.com previously reported, Kim and Kris Jenner had an emotional heart-to-heart chat about the break down of Kim's marriage during an episode of Kourtney and Kim Take New York. The episode featured the two women in the back of a limo in the fall of 2011.
Only it wasn't! The women were in Dubai in October, and the "heart to heart" scene was shot in December and inserted into the episode! The episode aired in January 2012.
In photos taken of the pair on December 6, 2011, as they exited a TV studio, Kim is dressed in the exact outfit, with the same hair style and earrings, as she is seen wearing in the scene supposedly shot in mid-October in Dubai. And mom Kris was followed out of the studio by an assistant carrying the purple kaftan-style dress she is seen wearing in the back of the limo.
Meanwhile, back at the sex tape star's house, "a lowly associate producer cleaned up the mess at the house," the insider added.