Kardashians Snub Step-Brother's Hawaiian Wedding!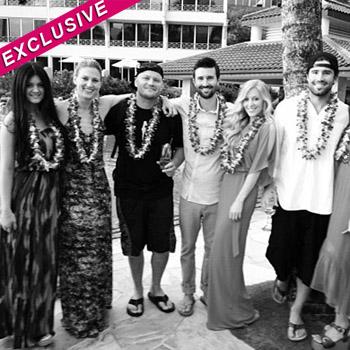 Article continues below advertisement
"I just wanted to send a HUGE congratulations and so much love to my brother Brandon and his fiancé/soon-to-be wife Leah. Wishing you both all the happiness in the world!" Khloe posted on her blog Thursday morning.
"Thanks to Kendall, Kylie and Brody for tweeting these amazing pics from the wedding getaway extravaganza! So jealous I can't be there!"
Instead of attending the wedding, Kim, Kourtney and Khloé had a four-hour meeting with Sears on Thursday afternoon in Los Angeles to discuss their Kardashian Kollection.
"Kris was and is all about her kids," a source close to the Kardashians exclusively tells RadarOnline.com.
"There is no animosity, but the Kardashian girls just aren't super close to the Jenner boys."
Before marrying Kris, Bruce had sons Brody and Brandon with actress Linda Thompson in the early 80s.
"Once family .... Always family! Coming together for special occasion!! All love!" Linda tweeted on Thursday morning.
Article continues below advertisement
Like Khloé, Kim and Kourtney posted congratulations to the happy couple on their respective blogs.
"I want to wish a huge congratulations to my step brother Brandon and his stunning fiance Leah who are marrying today. Sending my love to you both," Kourtney wrote on her blog.
Kim echoed Kourtney's post.
"Huge congrats to my step brother Brandon and his gorgeous new wife Leah!" Kim posted on Thursday afternoon.