'Kimye Love!' Kim Kardashian & Kanye West Share Video Bragging About Their Perfect Relationship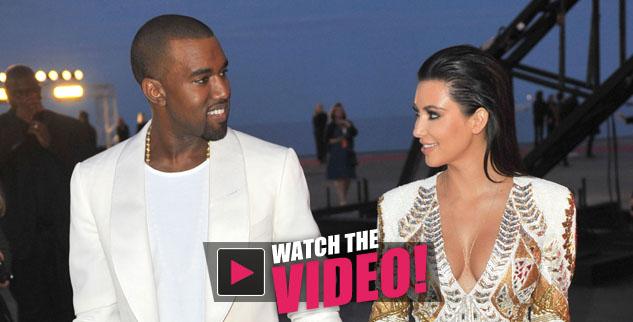 It's true love, Kimye style. Kim Kardashian wants the world to know that she and Kanye West really, really, really love each other and RadarOnline.com has the video she shared bragging about their love affair.
As paparazzi video of the couple rolls, it is interspersed with interviews that both gave about each other, with only two brief shots of their adorable daughter, North West , shown in the entire five-minute montage.
Article continues below advertisement
"I've never loved any girl, other than my mother, as much as I love my girlfriend," Kanye says, and reveals: "I'm so happy to be with her."
There are funny clips of Kanye talking about his girlfriend, saying: "Y'all acting like this ain't the most beautiful woman of all time. Arguably of human existence, the top 10," and there is a picture from their much maligned "Bound 2" video .
Kim says during the slickly produced video that she doesn't understand why it took so long for the two of them to get together.
"I feel like we've been through a lot together as friends and he's always been so supportive in my life," Kanye's baby mama gushes about him.
The Yeezus rapper even admits Kim is "the only girl that doesn't want me for money," and says he too is thankful for their relationship.
"I love the fact that God has put her in my life every single day."
Check out the "Kimye Love" video and sound off in comments!
youtube=https://www.youtube.com/watch?v=tLP1-hhibpM&w=560&h=315