'RHOA' Stars NeNe Leakes & Kenya Moore Point Fingers At Each Other Over Brawl At Bash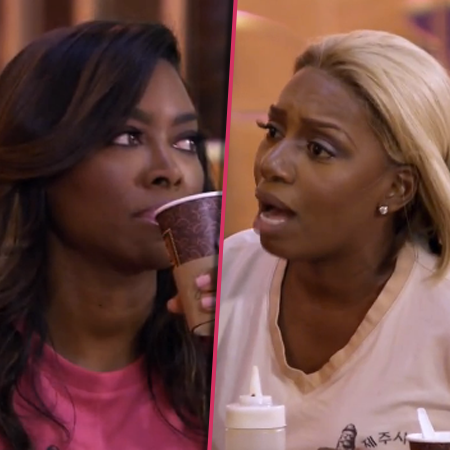 Who was to blame for the violent brawl on The Real Housewives of Atlanta during a pillow talk party?
According to the show's alpha dog NeNe Leakes, it was Kenya Moore's!
But the former beauty queen couldn't disagree more, and says the blame fell on NeNe for setting the tense tone at the party, where even mild-mannered Kandi Burruss had a meltdown of her own.
On Sunday's episode of RHOA, viewers saw the aftermath of the physical fight that had erupted on the previous show.
Article continues below advertisement
Back then, after Kenya and Natalie Williams, the wife of R & B singer Christopher Williams, got into a shouting match, Kenya had charged towards the other woman.
Christopher then grabbed Kenya's arm, at which point Kenya's assistant/friend, Brandon DeShazer, got up to defend her. An all-out rumble started in which Phaedra Parks' husband, Apollo Nida, wound up brutally beating Brandon.
As the show opened, Kenya told Bravo's cameras it was NeNe's party -- and she had created a sour atmosphere from the get-go.
"NeNe started it with her negativity, her vulgarity," Kenya claimed.
Viewers saw Apollo attempt to charge at Brandon again, but the others broke up the fight.
"What did I do?" Brandon shouted at Apollo, while Cynthia Bailey's husband Peter Thomas ordered Apollo to chill out.
All of the party guests were shellshocked at what had happened.
"I'm disgusted," Porsha Stewart told the cameras.
Chris Williams apologized to NeNe for the fight, but he said Kenya had disrespected him and his marriage by calling it a common law situation.
Article continues below advertisement
Meanwhile, in a separate dispute, Williams' wife, Natalie, explained she never used the word "Opportunist" against Kandi Burruss' fiance, Todd Tucker.
When Cynthia tried to downplay what Natalie had said about Todd, she waved her finger in Kandi's face, angering the music producer.
Peter told Kandi and Todd they were acting strange and then Kandi went berserk, having to be physically held back from attacking Cynthia's sister, Malorie, for supposedly touching her.
"I will drag you in this, b***h!" she screamed at Malorie.
People We Love! Hollywood's Most Inspiring Rogues, Renegades & Rule Breakers
Kandi said she also didn't like that Peter had touched her and shouted violently at him, too.
While Kandi told Todd that they should leave the party, Todd and Peter decided they would talk out their differences.
"Peter's your number one fan," Cynthia told Todd.
"I'm trying to straighten it out," said Peter, hugging Todd.
Article continues below advertisement
The next day, Kandi told her assistant Carmon and Todd that she was drained by the experience.
Watch the video on RadarOnline.com
Todd laughed that Kandi got so wild at the party that, "Your t***y almost came out."
Kandi admitted to Bravo's cameras, "I acted crazy."
But she still told her fiancé and friend that Cynthia should not have gotten into her personal space.
Carmon and Todd advised her to apologize to everybody, especially Cynthia.
"I was worse than my mama," Kandi admitted, bringing up the notorious firebrand Mama Joyce. "I really feel embarrassed."
Later, NeNe and her husband Gregg came to visit Cynthia and Peter. "I had to go see a therapist," in the party aftermath, NeNe joked.
Cynthia made fun of Kandi shouting, "You're getting too close!"
No Talent, No Problem: 25 Stars Who Are Famous For Doing Nothing At All
Peter said she was acting like "a ghetto ass" on The Jerry Springer Show!
Article continues below advertisement
But things at Kenya's house were more serious, as Kenya examined her assistant's black eye and bruised rib from his fight with Apollo.
"Brandon loves me and has always been there for me," Kenya said in a confessional segment. "I'm the one who took him to this godawful event."
Brandon told her, "I remember my throat being grabbed."
Kenya thought Apollo, who was once in prison, was still acting like a criminal!
Brandon told Kenya he held all the cards because "he cracked my rib" which constitutes "an automatic felony."
Still, Brandon resolved not to press charges because of Apollo and Phaedra's two kids.
Meanwhile, Phaedra was trying to figure out went wrong with Apollo.
"I was having a good time until the madness came," the RHOA husband, who was recently charged with bank fraud and identity theft, explained to her. "I was trying to diffuse the situation."
Article continues below advertisement
While Phaedra looked skeptical, Apollo claimed about Brandon, "I was trying to hold him back. I saw a lot of rage in his eyes ... whatever I tried to do wasn't appropriate. I just got really carried away."
He apologized to her, but Phaedra scolded her man, "You do not how to conduct yourself."
Faked Scenes, Lies & Payoffs – The Ultimate Guide To Reality TV Shows
Not surprisingly, though, she told the cameras, "I blame Kenya for the whole melee."
Also on Sunday's episode, Kandi prepared the musical based on her life called "A Mother's Love" and listened to a slew of bad auditioning singers, American Idol-style.
Porsha revealed she was auditioning for one of the lead roles in Kandi's play and practiced singing.
Later, Kandi decided the girls should all get together and clear the air at a spa.
"I definitely was out of character," Kandi said in apologizing for her role at the party-gone-bad.
Article continues below advertisement
Then NeNe said Kenya should apologize -- but the beauty queen would not!
Cynthia told Kandi she was sorry she had been in Kandi's personal space, while Kandi said Cynthia's sister Malorie had pushed her -- and her husband Peter was also out of control.
Though Cynthia protested that sister Malorie was trying to break things up, she added, "She is wrong for pushing you if she pushed you."
But Kenya was seething over Phaedra's remark that Apollo had said he was trying to break up the fight.
NeNe told Kenya "It was you that started it," and in a surprising faux pas, sure to stir up bad publicity, NeNe said her friend Brandon had "jumped up like a queen."
"Christopher touched me!" Kenya protested.
"He put up his hand to stop you," NeNe claimed. "Your friend was wrong. Don't bring him around anymore."
Kenya said she wasn't going to take credit for the fight and then told the cameras, "They should be pointing fingers at Apollo."
But NeNe went on the attack, saying, "You shouldn't have gotten out of your seat.
"It's not going to work, Kenya!"