Everything Is Peachy In Atlanta! NeNe Leakes & Kim Zolciak Working On Rekindled Friendship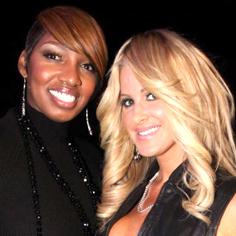 NeNe Leakes and Kim Zolciak appear to have put their bitter feud behind them and are working on their rekindled friendship, RadarOnline.com has learned.
"Although NeNe invited Kim to her wedding, they weren't exactly BFFs," a source close to the pair told Radar. "It has been a process, but they're in touch and very supportive of each other."
The clashing co-stars of The Real Housewives of Atlanta have been communicating more and are even arranging a date for Leakes to come and visit Zolciak's new twins, Kane and Kaia Biermann, the source added.
Article continues below advertisement
"They've had ups and downs but really want to get their friendship back on track -- they've moved on from the on-camera drama," the source added.
The Housewives went from friends to foes back in season one of the Bravo hit, when Zolciak got chummy with Leakes' rival, Sheree Whitfield. Before long, the women were hurling insults at each other, at high volumes on a regular basis.
Zolciak left RHOA in the middle of the fifth season, and later opened up about wanting to continue her bond with Leakes beyond reality television.
It seems her former archenemy has accepted, and on Jan. 21, the Glee actress gushed about how much she valued Zolciak's friendship.
"Just had the best convo with @Kimzolciak. She cracks me up every time," Leakes tweeted, adding, "On my way with Pampers!"