Drinking Beer From Toilet: Outrageous New Drinking Game Dubbed '#Neknominating' Gaining Steam Online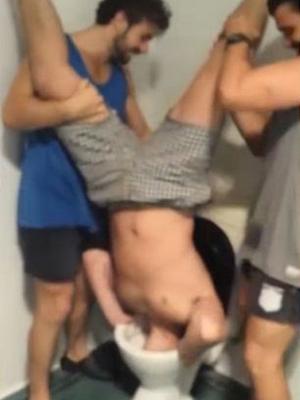 It's a bizarre new trend that makes twerking look like romper room fare.
Dubbed neknominating, it's a booze-fueled gambit in which pals, egged on by their social media and real life friends, employ creative, shocking and newfangled ways of imbibing a pint of beer, all under the guise of one-upping the previous participant.
The game, which has gained steam primarily in Australia and the U.K., was christened by one Facebook poster as the "social drinking game for social media," with the fairly simple instructions laid out: "Neck your drink. Nominate another. Don't break the chain, don't be a d**k."
Article continues below advertisement
Watch the video on RadarOnline.com
In possibly the most graphic-to-date exhibition of how far one will go, one man was propped up by his pals as he was launched heads up into a toilet bowl filled with alcohol, lapping up the booze out of the bowl. In other equally dangerous stunts, drunk drivers will pull tricks at the wheel."
Professor Michael Farrell of the New South Wales Drug and Alcohol Research Centre compared the under-the-influence hijinks to those popularized by Johnny Knoxville and the gents of MTV's Jackass.