Exclusive
Heartbroken Johnny Knoxville Blogs About Ryan Dunn Death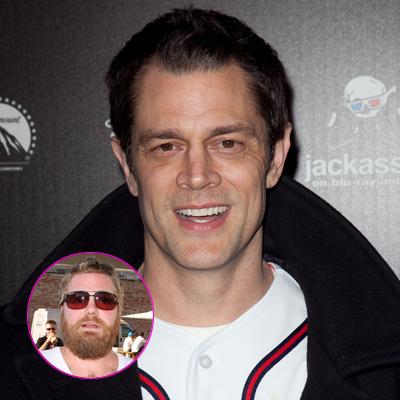 by RadarOnline.com Staff
Johnny Knoxville has taken to his blog to write about the loss of his Jackass co-star and close friend, Ryan Dunn.
Knoxville confessed that he had been unable to express his feelings adequately at Dunn's memorial last Wednesday, admitting that he "tried to share memories of my dear friend, but the words were just spinning in my head. What came out were the mumblings of a man trying his best not to cry, and I wasn't even successful at that."
Article continues below advertisement
So, the 40-year-old father of two has written a moving account of his deceased friend, detailing Dunn's humor, kindness and capacity to love.
Guests Arrive To Ryan Dunn Memorial
"I felt 34-percent funnier when I was with Ryan, but I guess everyone did. He had such a hair trigger laugh reflex," Knoxville writes. "He lived his life wanting to laugh and wanting you to laugh with him. He would cackle really fu**ing loud, too, and it wasn't uncommon that he would fall over from it. Sometimes I would fall with him because his spirit was very contagious.
"He wasn't incapable of seriousness, though. Ryan was a great listener. If you were having troubles, he was always someone you could go sit down and talk to. Granted, most of our sitting down was actually standing up playing pool together, but he was always there if you were sad about something. That's why all this is even harder because right now I really need to talk to him but I can't.
"Ryan also had an enormous capacity to love. His friends and family got a lot, but a lion's share of that went to his sweet and beautiful Angie. If he wasn't with her he would be talking about her. More times than not he would smile wide through that filthy ass beard of his and say something along the lines of, "How did I ever luck up and land her?" Well, it sure wasn't because of the way he smelled that's for sure. (Dunn despised water and rarely bathed.) It was because he had a pure, open heart, and many other qualities of which I am writing about now."
Article continues below advertisement
Jackass Star Ryan Dunn – Through The Years
Knoxville goes on to say how difficult it was to wake-up his daughter Madison and tell her Dunn was gone and how upset he is that his young son, Rocco and soon to be born daughter will never know him.
Knoxville finishes: "I'm hurting!! We all are because we loved you so much and now you're gone. I know your spirit lives on in me, Angie, Bam and everyone you touched, but that's pretty tough to see right now through the tears. I'm starting to ramble now, just like I did at the memorial, so I'll stop. You'll have to excuse me, I'm just very sad because I lost my brother and my world got about 134-percent less funny. I don't know what else to say right now, so I will close with I love you, Ryan. I have a lot of emotions swirling, but I want you to know I love you so very much."