Exclusive
Ryan Dunn Toxicology Report Released — He Was Drunk, Very Drunk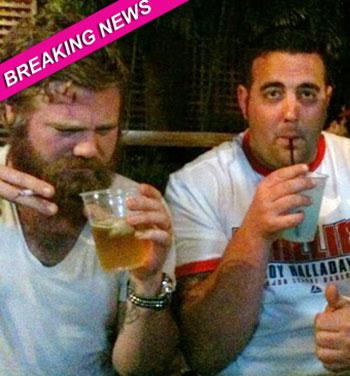 RadarOnline.com Police Reporter
Ryan Dunn was so drunk that his blood alcohol level was nearly two and a half times the legal limit when he crashed his car in the early hours of Monday morning.
The West Goshen Police Chief Michael Carroll released the details that Dunn's BAL was .196, which is more than twice the legal limit of .08 in Pennsylvania.
DOCUMENT: Read The Police Press Release
"There were no drugs of abuse suspected," the report said.
Article continues below advertisement
The report also confirmed that the Jackass star and his buddy, Iraq war vet Zachary Hartwell, were traveling at between 132 and 140 miles per hour in Dunn's powerful Porsche 911 when they crashed and the car burst into flames.
Both men were killed instantly.
Dunn – who appeared in all three of the Jackass movies – Tweeted a photo of himself, Hartwell and another man at a bar in the Philadelphia area just hours before the crash.