Mommy Dearest Strikes Again! OC Housewife Tamra Barney's Parenting On Display As She Blasts Her Newest Employee -- Son Ryan Vieth!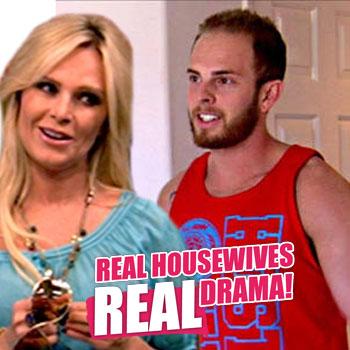 Article continues below advertisement
And once again, Barney, 46, who has had a problematic on-again, off-again relationship with the 27-year-old Vieth, decided to put her parenting style on display for Bravo's cameras. Barney explained that she'd made Vieth a manager at the gym and was ordering him to do certain things behind Judge's back so as not to bother her husband.
Faked Scenes, Lies & Payoffs – The Ultimate Guide To Reality TV Shows
Also, "We want him to grow," Barney told the cameras of Vieth, who recently got engaged to be married after a trouble-prone past.
In 2010, Vieth posed for a mug shot after a routine traffic stop revealed there was a warrant out for his arrest. According to Barney's exclusive interview with RadarOnline.com at the time, the warrant was issued because her son Vieth didn't have the money to pay for fines for several speeding tickets and had missed a court appearance. Back then, Barney had told RadarOnline.com, "I am livid. I'm done enabling him."
Article continues below advertisement
However, fences were mended to an extent, as Vieth attended Barney's televised wedding to Judge last year and Monday's episode showed him on the job at her CUT Fitness business.
"What's your goal?" she asked her son about his life.
Barney then revealed in confessional of the child she had at 18: "He doesn't think long-term. My hope for Ryan is that he finds something in life he is passionate about and that he can make a career out of it."
Vieth told her, "I hate the career question."
Barney sighed, "So you have no plans of doing anything but working here all the time?"
Vieth shrugged to his mom, "I'm just training right now and working at the gym."
Barney told the cameras if he planned to run their next CUT Fitness store, great, but if not, he should "get a job!"
Meanwhile, the RHOC episode also showed Vicki Gunvalson trying to adopt new co-star Shannon Beador's techniques for dealing with stress, such as getting acupuncture and practicing feng shui.
Article continues below advertisement
Before consulting the feng shui expert Beador brought to her insurance office, Gunvalson talked about her divorce from husband Donn Gunvalson, saying, "Donn feels entitled to spousal support and I'm going to fight him." (As RadarOnline.com readers know, Gunvalson DID recently pay Donn cash in their divorce settlement!
Gunvalson said of feng shui, which was designed to push out negative energy, "If it's going to help me make more money, I'm going to do it!"
Scorned Exes Tell All: Inside Hollywood's Ugliest Splits
She also laughed that Beador's acupuncture practitioner, Dr. Moon, had put his finger in her rear end.
Viewers also saw Heather Dubrow meet up with her event planners to plan a hoedown party to celebrate the breaking ground of the lot where she and husband Terry are going to build their lavish new home.
Later, Barney told Gunvalson and Beador about meeting Lizzie Rosvek at the ugly sweater party and how she reminded her of a combination of Gretchen Rossi and Alexis Bellino, who were both fired from RHOC after last season.
Article continues below advertisement
Rosvek said she wasn't okay with their boring routine.
"I want my husband to be a love machine," she said.
More madness at the Beador residence was on display, as the housewife got ready for Christmas. Beador had pictures of the way they'd decorated the previous year to set everything up the same way. Beador admitted she'd shelled out $20,000 on Christmas ornaments! Husband David arrived and started stringing up the Christmas lights as she criticized him for having food in his mouth when he was speaking to their daughters.
Article continues below advertisement
At the end of the episode, as RadarOnline.com has previously previewed, Gunvalson got into a feud with Rosvek immediately after meeting her.
"Vicki is not going to like Lizzie for sure … she's a beauty queen," Barney aptly predicted to the cameras.
And she was right because after everyone started drinking in the limo, and Rosvek bragged about being a former beauty queen and valedictorian in high school, Gunvalson snapped, "I'm not a pageant person — I worked my little a** off."
"You aren't very friendly," Rosvek told Gunvalson.
"It's obvious Vicki might be jealous of me," she said in confessional.
Things got worse as at the restaurant, Gunvalson insisted on sitting by Beador even though Dubrow already had that chair.
Dubrow tried to take her seat back, but then told Beador, "If you need to sit there, go ahead."
An upset Beador told Dubrow, "Vicki told you to move, not me."
"Who made Heather Dubrow boss?" Beador then told the cameras.
Article continues below advertisement
"You came back from the bathroom so angry," Dubrow pointed out to Beador.
Beador told Bravo's cameras that she wasn't a fan of Dubrow for the seat controversy—and for saying they didn't live in the same neighborhood!
Then a drunk Gunvalson ordered a bunch of tequila shots, but Rosvek took umbrage when she didn't get one—even though the "O.G. from the O.C." insisted she'd asked the waiter for everyone to get a shot.
Watch the video on RadarOnline.com
"Is Vicki okay with me?" Rosvek asked Barney in the bathroom.
Then Gunvalson separately told Barney she wasn't rude to the newcomer, but didn't "like her disrespect."
As the episode ended, Gunvalson told everybody she had to go back to her office to work — then she was going to meet up with boyfriend Brooks Ayers, whom she'd ordered wait for her naked in her bed.
Barney muttered to Rosvek of the notorious Ayers, "He's not a good guy."
The Real Housewives of Orange County airs on Bravo Monday at 9/8c.