Miley Cyrus Mocks Former BFF Justin Bieber In Shocking New Video -- Watch The Clip!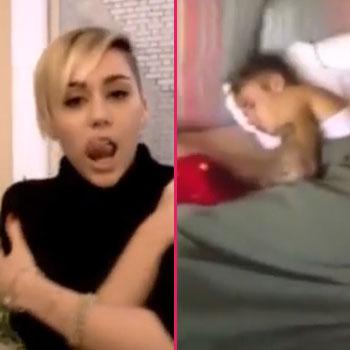 With friends like Miley Cyrus, who needs enemies?As Justin Bieber's single sales continue to disappoint amid his recent bad behavior, his former BFF, Cyrus, has jumped on the anti-Bieber bandwagon with a new Youtube video mocking the former teen idol's Brazilian hookup scandal.
In the clip, filmed during an appearance at London radio station 958 Capital FM, Cyrus inserts herself into a mockup of video of Bieber that was shot by Brazilian glamor model and bodybuilder Tati Neves.
Article continues below advertisement
Watch Cyrus' prank vid:
youtube=https://www.youtube.com/watch?v=VwuoSa-OLdE&w=560&h=315
Watch the original:
youtube=https://www.youtube.com/watch?v=36l0tgfFZDg&w=420&h=315
Neves told Brazilian media all about her night with the singer after a friend allegedly leaked the clip, claiming that he was "well-endowed" and "good in bed."
She continued, "A man must know what to do to make me happy. Justin did all that and more."
Neves also claimed that Bieber had invited her back for a second go-round, but she said, "I didn't because I was exhausted. I just didn't have the strength. Justin has so much stamina."
For his part, Bieber has denied that they actually slept together, according to reports. But still, it can't help to have his former friend Cyrus giving the humiliating story more attention in the media.
And this isn't the first time the twerking queen has used a public forum to bash her friend. In July, she told The Sun, "I told Justin to take a bit of time out … I always tell him to just be cool and not talk about it because when you talk it fuels the fire. He's still stupid though. But everyone does dumb stuff when they are messed up, and he's done dumb stuff."
Would you be mad at a friend if they mocked your troubles? Or did Bieber bring it on himself? Let us know in the comments!