As Drug Scandal Grows, Miley Cyrus Jokes About Getting 'High' Like Snoop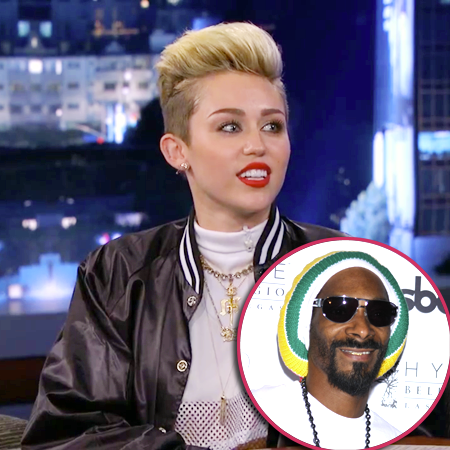 Miley Cyrus might be embroiled in an ongoing drug scandal, but that didn't stop the 20-year-old singer from dishing out a red-eyed revelation, as she joked about getting high in her appearance on Jimmy Kimmel Live! Tuesday.
Asked about Ashtrays and Heartbreaks, her duet with longtime marijuana advocate Snoop Lion, she told Kimmel she and the rapper are "very similar," and he's even previewed her songs in the studio in the past.
Article continues below advertisement
"That's because he's so high he doesn't know what his name is," Kimmel joked with the Hannah Montana star, who shot back, "We both are, we both are."
The eyebrow-raiser comes directly after Miley hinted she's no stranger to the green stuff in a recent interview with Rolling Stone.
When asked if she was a stoner, the We Can't Stop singer said, "You can't ask someone that and expect them to say, 'Yes,'" then referencing her collaboration with Snoop.
"People can put it together for themselves," she said, adding, "I think alcohol is way more dangerous than marijuana.
"People can be mad at me for saying that, but I don't care. I've seen a lot of people spiral down with alcohol, but I've never seen that happen with weed."
Watch the video on RadarOnline.com
youtube
The appearance comes in the wake of more high-profile problems for the Cyrus clan, with Miley's dad Billy Ray and mother Tish having split earlier this month, with the Achy Breaky Heart crooner coming under fire from his daughter via Twitter for his relationship with a co-star during his Broadway run last year (though she later claimed she was hacked).