Tish Cyrus Speaks Out on Divorce From Billy Ray While Miley Is Frustrated He Won't Speak To Her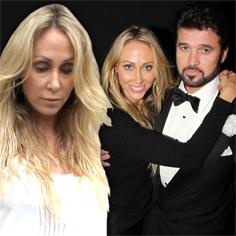 Billy Ray Cyrus has been quietly nursing his achy break heart since his wife Tish filed for divorce. But Tish is speaking out on her Twitter page, thanking fans for their support and asking God for help.
"God is so good," she told on Twitter follower who Tweeted her support. "I know his plan for me is a good one."
She also retweeted a post from Christian motivational speaker Tammy Trent that read, "God never promises the absence of storms. He just promises to walk with us through them!"
Article continues below advertisement
"Thanks for that, Tammy," Tish commented. "You are the strongest women in the world. What u went thru makes my problems seem so small."
Billy Ray, meanwhile, has been on lockdown -- so much so that Miley was forced to take to Twitter yesterday to reach him.
"Since your texts and email obviously aren't working, would you like to talk like this?" she Tweeted, then deleted.
Billy Ray has fled his family and all of Hollywood for his ranch in Franklin, Tennesse. He was spotted at a local Starbucks on June 3 and attended mass at People's Church on Sunday, June 9.