Matt Lauer In The Middle Of MORE Controversy With Chris Brown Interview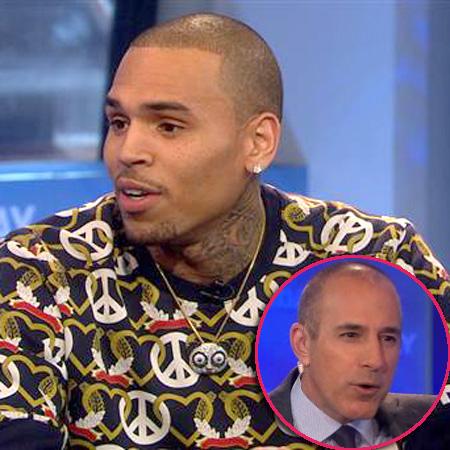 Matt Lauer probably feels he's damned if he does, damned if he doesn't.
The 55-year-old embattled TODAY co-host is now taking heat for his interview with Chris Brown on Monday's show, with Brown's fans angry he asked questions about the Forever singer's infamous 2009 beating of Rihanna, and Brown's detractors arguing he danced around the seriousness of the brutal beating by not directly referring to it.
Article continues below advertisement
During the discussion, Lauer asked Brown -- who said "everything's good" in his current relationship with the Umbrella singer -- about "the incident in 2009" as well as what he thought of the "cynics" who believe Brown's abusive ways are not behind him.
Among the tweets putting down Lauer, users criticized the NBC journalist for his softball language and friendly nature toward the convicted-woman beater.
@ErinGoBawl wrote, "So the cynics and skeptics are the ones not forgiving Chris Brown for BEATING THE S**T OUR OF HIS GIRLFRIEND? Okay, cool Matt Lauer. Matt lauer: Chris Brown was charged with a felony in 2009. Quite a way to say someone beat the shit out of his girlfriend. #journalism."
@ShaunaStuppia wrote, "F the @todayshow for having @chrisbrown an admitted abuser of women on. Disgusting. You couldn't find anyone else on the show? Shame."
Article continues below advertisement
@hairties tweeted: "You know when the Today show is desperate for viewers when they interview and sympathize with Chris Brown."
On the flipside, some of Brown's die-hard fans (who call themselves Team Breezy) took Lauer to task for even bringing of the Rihanna beating to the singer.
@Inez_louise -- "Yessss @chrisbrown Mat was getting annoying!!!! It was more about him and @rihanna then it was about his music ugh typical!!!! I wish they would stop talking about what happened in 2009!!!"
@DasaniAquafina wrote, "People are so damn nosey. I just wanted to hear @chrisbrown's new single but these man keeps talking bout some bullsh*t."
Watch the video on RadarOnline.com
And in what might have been a personal rant disguised as impartial banter, Lauer told Brown, "People in this country it seems love to build someone up and bring them down.
"They enjoy standing on the sidelines and watching if someone goes down, but it's also been said people like comeback stories."