Lauri Peterson Tells Gretchen Rossi That Vicki Gunvalson Hopped 'From Guy-To-Guy-To-Guy' -- While She Was Married!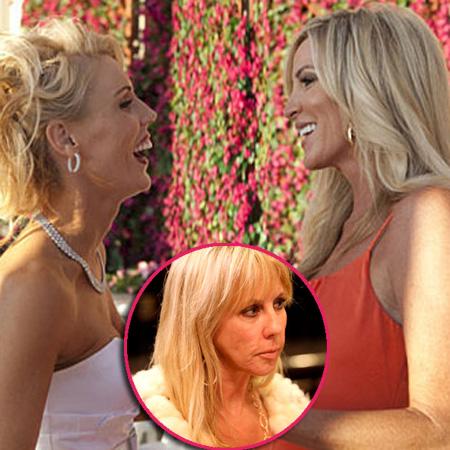 Things are beginning to get dicey on the Real Housewives of Orange County.
The simmering tension brewing between Vicki Gunvalson and Gretchen Rossi was ramped up considerably Monday, courtesy of former cast member Lauri Peterson, and we've got the details for you right here on RadarOnline.com.
When Gretchen paid a visit to Lauri at a Southern California horse stable, Lauri gave her a heap of scandalous ammunition against "The O.G. from the O.C.," accusing the Coto de Caza, Calif. insurance professional of a promiscuous past while married to her now-ex-husband, Donn.
Article continues below advertisement
"I have never known Vicki to be with one person," Lauri said. "She's just hopping from guy-to-guy-to-guy! She was married at the time, yeah.
"Vicki went to Greece one year -- she went with her girlfriends. She came back with a 'Grecian God.' But the problem was when he opened his mouth, he had no teeth! That's what I heard, that what's so funny."
Despite hitting the gossip jackpot, Gretchen told Lauri that hearing these things about Vicki -- who had past accused her of being unfaithful to late fiance, Jeff Beitzel -- made her "so angry."
That didn't stop Lauri from feeding Gretchen more tawdry tidbits about Vicki.
"There's a lot more, there's a ton more: At an insurance convention in New Orleans, I walked in to the hotel and she was in bed with another woman, and they were both in bed with another man," Lauri said, confirming she witnessed the scene with her own eyes.
"I saw it: They were under the blanket," she said, adding, "Whether they were having sex or not, I don't know."
Article continues below advertisement
Lauri said her motivation for the Vicki venom was retribution for hurtful words she said Vicki spread against her husband's family.
"I know a lot about Vicki," Lauri said. "I know where the bones are buried. She better watch out -- there's a lot that I know."
Gretchen, taking in her newfound riches, said in an off-camera interview, "I seriously can't figure out what shocked me more: The fact that she was having all these affairs while she was married, or that all these men wanted to have affairs with Vicki!"
Next week the Vicki-Gretchen confrontation will heat up when The Real Housewives of Orange County airs on Bravo Monday at 9/8c.
hulu id=vrnhnpj-z7zydztgpd-3vw width=512