Gretchen Rossi Unleashes On Twitter Haters Calling Her Selfish: 'You Can (Bleep) It!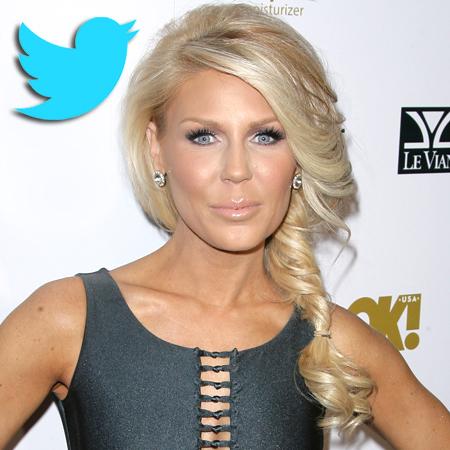 After a number of critics popped up on the social media landscape criticizing Gretchen Rossi for being selfish about wanting to start a family with fiancee Slade Smiley -- as his 11-year-old son Grayson continues his valiant battle against brain cancer -- the Real Housewives of Orange County star lashed back at those hurling negativity in her direction Tuesday.
"First off what show are you watching?" Gretchen wrote in her new Bravo blog, "and second you can s*ck it!"
Article continues below advertisement
Gretchen said she and Slade" had been seriously discussing babies before Grayson's surgery … and had already taken the first few steps to make that a reality for us."
She said she hushed up on chatter about the topic as Grayson's health waned, but Slade brought it back up.
"Once he brought up the subject I decided to allow myself to talk openly with him about why I had stopped talking about it and expressed my sadness in this whole s----y situation," the beauty said, noting that she was the person who said, "I would feel selfish bringing up the baby stuff to you during this very trying time."
The regretful reality star complained, "I swear sometimes you just cannot win -- I mean if I don't bring it up I'll get accused of not being real about it, but if I get asked how come I stopped talking about it by my own partner and respond authentically, I get called selfish.
"It's just crazy! Partners are supposed to talk about everything, all emotions, all issues, all wants and desires, and, quite frankly, I think Slade and I do a damn good job of communicating and really working through the stuff we have going on in our lives. And I am very proud of that!"
MORE ON:
The Real Housewives of Orange County
Article continues below advertisement
The sexy O.C. Housewife also commented on the peripheral damage of the situation, as Slade's work has taken a backseat to his son's health, causing massive trickle-down effects financially.
"The sad part about a situation like this is that when a family member gets sick, the rest of the world does not stop," she wrote. "It doesn't say, 'Oh no problem. Come back to work when the illness is gone.' And the bills don't go away or stop coming.
"Life seems to continue on, as you are torn apart trying to figure out how to manage it all."
Gretchen said it is for this reason she's proud to do charity work with the Beckstrand Cancer Association beckstrand.org, which helps families with ill kids survive in times of need.
See more of Gretchen when the Real Housewives of Orange County airs on Bravo Monday at 9/8c.