I Do! Gretchen Rossi & Slade Smiley Engaged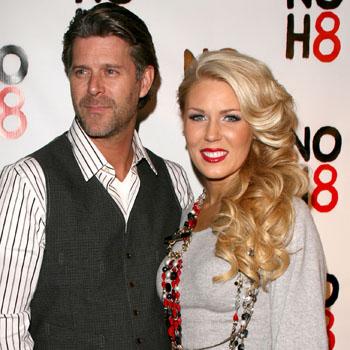 Gretchen Rossi is engaged!
The Real Housewives of Orange County star proposed to her boyfriend of four years, Slade Smiley last Sunday, In Touch reveals.
"She proposed to him on top of the AT&T building in LA," a source tells In Touch, adding that it was a surprise and the proposal will be televised.
"She had him flown up there via helicopter for the dramatic proposal."
Gretchen, 35, has revealed in the past that she would be comfortable making the first move.
Article continues below advertisement
"A guy doesn't always have to do it propose," Gretchen said. "He can still do it, but maybe I might, too. If he doesn't do something soon, I might have to!"
Gretchen's next step is to have a "boatload" of kids. Speaking to In Touch about her relationship with Slade she revealed:
"I'm so happy right now."
And Slade was equally as gushing. "We have such a fun, outgoing relationship. There isn't any aspect of Gretchen that I don't think is absolutely delicious!" he said.
Gretchen was previously married to Chris Ross, but divorced in 2007. She then got engaged to Jeff Beitzel, who lost his battle with cancer in 2008.
Slade was previously engaged to Jo De La Rosa, but broke it off in 2007.