Don't Trash My Plastic Surgery! Vicki Gunvalson Slams Tamra Barney & Gretchen Rossi's 'Nasty' Comments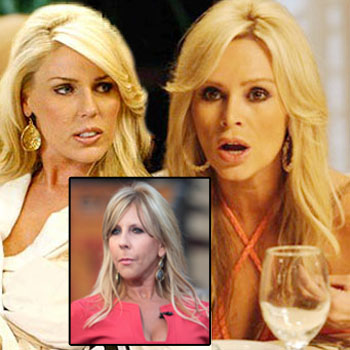 Article continues below advertisement
Tamra and Gretchen were vicious about Vicki at the party about her puffy face, and seeing and hearing their comments hit below the belt for Vicki.
"I wasn't looking for any attention by having my surgery, I was looking for an improvement," she said about her procedure.
"My doctor actually said that no matter who you are, we all could use a little 'tweak' here and there. I was at the point in my life, where I figured 'What the heck. . .why not?'"
To her credit, Gretchen seems to realize that when she and Tamra ganged up on Vicki they weren't being very nice.
"Needless to say when Vicki showed up to the party I was shocked to see her face sooo swollen, and she had so much hair in her face I could barely tell it was her," Gretchen wrote on her Bravo blog.
"I remember thinking why would she go get this work done? I did not feel like she needed it.
Article continues below advertisement
"However looking back, I feel bad that Tamra and I were making fun of it. It was not cool, and I wish I had just kept my mouth shut. It was just such a strange situation to be seeing someone obviously so different and swollen for the first time in months, it's a little bit of a shock and we didn't know how to deal with it at first."
While there is no evidence that Gretchen has apologized to Vicki in person it's a step in the right direction, and Vicki even admits that the timing of her procedure could have been better.
"I shouldn't have done it so close to our start of the season. I don't like the way I looked in the first several months of filming and am quite embarrassed about it."
But she doesn't want to hear that criticism from anyone else.
"So. . .if you have anything negative to say about it - please do me a favor and refrain. I agree with you that I looked BAD! The fortunate part is now that it's been six months since the surgery, I have full movement of my face and mouth and most people say that I look just 'refreshed,' and can't really tell that anything was done surgically. Phew! Thank God."