From Miss Piggy To Mickey Rourke -- Vicki Gunvalson's Face Can't Catch A Break!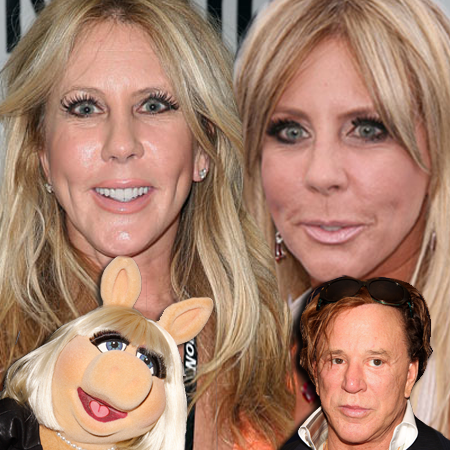 As if Slade Smiley hadn't caused enough trouble on the Real Housewives of Orange County by calling Vicki Gunvalson 'Miss Piggy,' this week he took his ridicule one step further by comparing Vicki to actor and plastic surgery addict Mickey Rourke, and RadarOnline.com has the details.
"Slade's new gig is radio host, and he's so freaking good at it," Gretchen Rossi gushed over her boyfriend Slade's new job. "It plays all over southern California, and I'm so proud of him."
Article continues below advertisement
But just because Slade has a new job doesn't mean he's not up to his old antics.
While airing a live radio show, Slade had to gossip about his favorite topic…Vicki Gunvalson's face.
"I don't know what to do. I'm in a really, really weird position," he said to his co-host. "Let's just say there's a person who's not very well liked...this person looks like a muppet. I'm not naming any names at all."
Slade went on, "And then all of a sudden this person, let's just say according to some Internet reports, decided to have maybe her thirteenth surgery? And shows up at a party looking like Mickey Rourke."
As RadarOnline.com previously reported, one of Vicki's main reasons for having the cosmetic surgery was, in fact, Slade's cruel jokes about her looking like Miss Piggy.
"I've been ridiculed that I look like a certain character, and it does hurt me," Vicki confessed.
"I'm all about renovating everything right now, whether it's my body or my home," Vicki said. "And I decided, what can I do to build my self esteem?"
Gretchen's self esteem, however, seemed to be flying high during Monday night's episode of the hit Bravo reality show.
"There was some issues with Slade's financial house, and this year he's doing well financially," Gretchen revealed.
"We're both really happy, and so now I think that marriage is definitely on the horizon!"
Tune into the Real Housewives of Orange County Monday nights at 8/7c on Bravo.