Exclusive
EXCLUSIVE: Vicki Gunvalson's Divorce Will 'Be Smooth' Says Former Cast Mate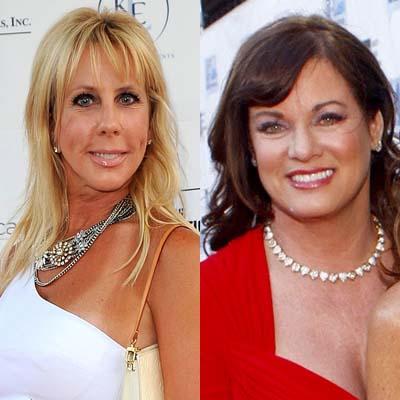 In the days after the announcement of The Real Housewives of Orange County star Vicki Gunvalson's divorce from her husband Donn after 16 years, one of her former cast mates is standing by both of them and assuring fans the reality couple will remain friends.
"It'll be smooth," Jeana Keough, who left the show midway through last season, told RadarOnline.com exclusively.
"It'll be amazingly awesome, they're going to be friends. These are mature people. She's been through it before, she knows a right and a wrong. Vicki is very strong and a businesswoman, she's not a hysterical female. It'll be a great divorce."
Article continues below advertisement
And this wasn't an unexpected decision.
EXCLUSIVE VIDEO: New York Housewife Jill Zarin Takes Daughter On College Shopping Spree
"I think everybody who watched TV saw it coming," Keough told RadarOnline.com.
"You know, I think people grow apart. They have different lifestyles and different travel schedules and if you don't make an effort everyday... relationships are tough."
Jeana knows first-hand when a relationship unravels on-camera and how the spotlight can affect a relationship.
"I can't answer for anyone else. But it was a little bit of a factor in mine because it put so much visibility on to someone who was struggling with an issue," said Jeana, who is in the midst of a divorce from her former professional baseball player husband, Matt.
"I think my being on the show made it worse for him, but it made it better for me because there were people out there telling me, 'You don't have to live like that.'"
Article continues below advertisement
As for Vicki and Donn, Jeana was never shy about expressing her opinion about their marriage while starring on the show, and now believes the end of their union will remain positive.
"...They both knew it was coming. They're both happy, they're both going to be friends forever. This will be the best divorce ever. This will be a textbook case of how you should get divorced.
"But I think they tried, they gave it a good shot. I'm sure they're both leaving with good feelings about each other. I'm sure it'll be fine. They're both smart, mature people, and they'll make the right decisions."