'Celebs Are Insulated From Nastier Aspects Of Scientology,' Says L. Ron Hubbard's Great-Grandson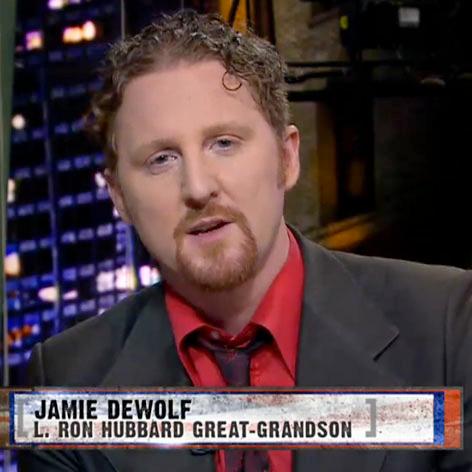 The great-grandson of the founder of Scientology has made the stunning revelation that celebrities are kept apart from the "nastier aspects" of the controversial religion and are able to move up its hierarchy much faster than other members.
Jamie DeWolf – whose great-grandfather was L. Ron Hubbard – went on Current TV and slammed the religion that has high profile celebrity followers like Tom Cruise and Kirstie Alley.
Article continues below advertisement
Scientology tried to recruit Elvis Presley , DeWolf revealed. The singer turned the organization down but even if he had joined, he would have been exposed to a lighter version of Scientology.
"The celebrities get a different flavor of it and a very different brand of Scientology," DeWolf said.
"They're insulated from the nastier aspects of it and also they've got the money.
"So they can move up this pyramid at a much quicker rate and they don't get stuck in levels like a lot of other people, just constantly spending money."
DeWolf also blasted Scientology as a "cult" based on "devious systematic brainwashing systems."
In his interview with host Cenk Uygur, DeWolf revealed how the Church draws people in. He said: "A lot of it preys on narcissism. A lot of Scientology's opening hooks to you is sic that it's like a pyramid of self-mastery and as you move up…you're going to reach this level of God-like status.
"You're going to have telepathy and telekinesis, be able to move through space and time and…you're going to be able to free yourself from this sci-fi imprisonment."
Article continues below advertisement
DeWolf – whose grandfather was Hubbard's son Ronald DeWolf – also claimed that once the Church of Scientology has enticed a person to join they are encouraged to stay via "electrified hypnosis," "brutal security" and a "CIA-like structure" that becomes "intoxicating to people."
"It works through a lot of hodgepodge ideas that you throw together," he said.
"I think it's one of the most brilliant and devious systematic brainwashing systems that's ever been invented. No one's ever accused my great-grandfather of being an idiot."