Kyle & Kim Richards Mock Lisa Vanderpump's 'Dancing With The Stars' Collapse: It's Fake, She Wanted Out!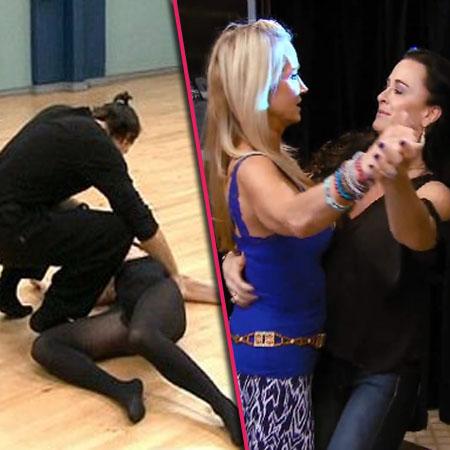 Article continues below advertisement
While watching the ABC dance show at home, the sisters looked confused as Lisa fell to the ground.
"What just happened?" asked Kim.
"I have to see that again in slow mo," Kyle said, rewinding the scene.
As they examined the faint, Kim laughed.
"I don't think she wanted to do it anymore," Kim speculated, adding that her years as an actress trained her how to spot a fake faint. "Some people are just not made out for fake faints."
Kyle speculated that "Lisa wanted out from Dancing With the Stars," and that her faint looked too staged and pretty to be authentic.
The infamous faint will continue to play out during next week's episode.
Meanwhile, Kyle hosted a lunch with the new cast members, Joyce and Carlton. Things were going fine until Kyle urged someone kill a bee. This didn't go over well with Carlton, a nature lover.
"I'm disgusted -- this is f**ked up!" Carlton said about the bee killing.
Article continues below advertisement
"I'm a bee murderer accomplice," Kyle joked in her confessional, practically falling off her seat laughing about Carlton's over-the-top reaction.
Later, Yolanda Foster underwent a surgical procedure as part of her treatment against Lyme disease.
As she was wheeled off on a hospital gurney, she began to question if her husband, composer David Foster will stick around "through sickness and in health."
She was thankful when he's right by her side after the successful surgery to remove her port.
Of course, it didn't take long for the claws to be back out again. Days after the surgery, Yolanda, Lisa and Brandi are seen enjoying an upscale luncheon at Lisa's estate, when the conversation turns to castmate Kyle.
"The woman called me a liar," sneered Yolanda, with Brandi adding that "she's stabbed everybody in the back."
"I do feel a little bit sorry for Kyle right now," chimed in Lisa, mentioning that Richards had been close to former housewives Taylor Armstrong who moved to Colorado, and Adrienne Maloof, who left the show.
"You just have to put your house on the market and you'll bond really quick," Vanderpump joked.
The Real Housewives of Beverly Hills airs Monday at 8/7c on Bravo.