Lisa Vanderpump Blacked Out & Fainted During DWTS Rehearsals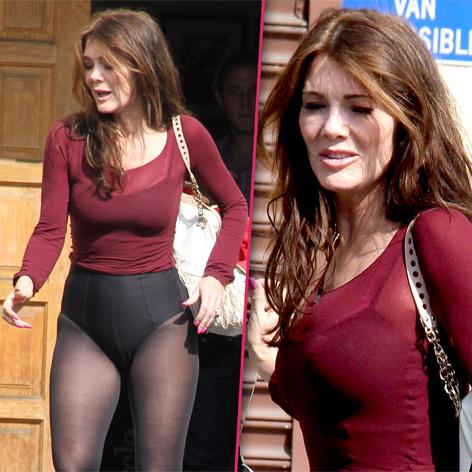 Lisa Vanderpump reveals she blacked out recently during rehearsals for the 16th season of Dancing with the Stars, and when you hear about her crazy schedule, it's not surprising at all.
In her weekly blog for People, the restaurateur/reality TV star, 53, writes about the shock of fainting and how her jet-setting life got the best of her.
"I had to take off to New York for work Tuesday right after the elimination show. That night I took a red eye flight at 11 p.m., arriving in New York at 6 a.m. and heading straight to six hours of rehearsals upon landing.

After rehearsals, I ran back to my hotel for a quick change and headed to the Bravo Upfronts party, which wasn't over until around 11 p.m. Then I had a light dinner and drink, and went to bed.

After a few hours of sleep, I was up bright and early at 6 a.m. to prepare to dance with my partner Gleb on Live with Kelly and Michael. We were performing an encore of the Viennese waltz, which I ended up doing barefoot! Then off we went to six hours of rehearsals again before catching a flight back to L.A. that evening.

By the time Thursday rehearsals rolled around – let's just say I was exhausted and everything felt off. Gleb and I were rehearsing our cha cha and suddenly I just blacked out.

I was in shock when I woke up. I fainted only once before in my life. The doctor found that I had a viral infection with fever and swollen glands. And between trying to fight that and all of the stress on my body from running around, I ended up with low blood pressure and a rapid heart rate, which is why I fainted."
Lisa also writes that she still feels a bit under the weather, but she promises to give it her best when she dances the cha Cha Monday night with Gleb.
Article continues below advertisement
Dancing with the Stars airs Mondays at 8/7c and Tuesdays at 9/8c on ABC.