Banned From The Great White Way? Kris Jenner Abandons Broadway Dream, After She Forgets Her Lines On 'KUWTK'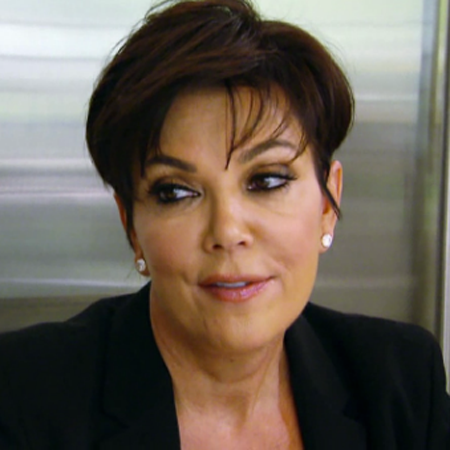 Kris Jenner wanted to perform in the famed musical "Chicago" on Broadway, but as viewers saw on Sunday's Keeping Up with the Kardashians, Kristin Chenoweth has nothing to worry about!
In her bid to hit the Great White Way, Jenner sang off pitch and forgot the words to the song "All That Jazz" during classes with a vocal coach and a dance teacher. Kris first got the idea when she felt at loose ends after completing her six-week summer talk show.
Article continues below advertisement
"It's not cancelled," Kris insisted to her daughters about her show, Kris. (But as RadarOnline.com reported, since then, it has indeed been cancelled).
"I had the best summer of my life," Kris said, getting teary-eyed about the show -- and apparently not too broken up about her split from husband Bruce Jenner, which also happened in the same time frame.
As RadarOnline.com previously previewed, after Kris and Kim's best friend Jonathan Cheban went to see Chicago in New York, the momager got the notion that even though she only sang and danced in her own bedroom, yes, SHE could do a musical!
"I was thinking I could do something on Broadway," she said. "I am kind of into being on Broadway. Why not? Who says no?
"I like to dream big," Kris told the cameras.
Kris hired voice coach Bob Garrett, who told her she had perfect pitch -- but she ultimately screwed up singing "All That Jazz," the song of the character Velma Kelly, played by Catherine Zeta-Jones in the 2002 movie version.
Undeterred, Kris also took dance classes and when the teacher told her to think of herself as an evil queen, she exulted, "I'm good at evil queen."
Article continues below advertisement
But when she told Jonathan and Kim what she was up to, and sang for them, they laughed at her.
"Don't you have to have a good voice, though?" Kim giggled.
Kris told them off, saying their reaction was "a buzz kill."
But estranged hubby Bruce actually encouraged her to "do what you want to do."
Later, Kris was at the dance studio rehearsing and she kept forgetting the lyrics and making up her own.
"I can't get it together today," she moaned to the cameras.
Seeking advice, Kris called her friend Kathie Lee Gifford because she had performed as Miss Hannigan in Annie on Broadway.
Kathie Lee told her about "the amount of discipline you have to have. You lose your mind. I don't see you ... having the time to do that. You're going to feel like a monkey in the zoo."
Kris agreed" "The kids need me," she told the cameras.
She vowed that she'd continue practicing, though, so never say never.
Article continues below advertisement
Also on Sunday's episode, Khloe Kardashian continued to deal with the end of her marriage to Lamar Odom.
Khloe felt uncomfortable living in the crowded home they had shared, and Kris' home was crowded, so she took brother Rob's offer to crash at his condo instead of renting the house next to Kourtney and Scott Disick's home.
"It has a little darkness that we need to clean out," Khloe sighed to Kourtney about her house with Lamar.
But Khloe soon bugged Rob by redoing his kitchen and cooking for him.
"I need to do things my way," he told the camera.
"I'm trying to lose 60 pounds. I need to dedicate my entire life to fitness. It's very easy to fall off the wagon."
Later, after Khloe had a party with her sisters at Rob's place, he got angry and told her she was impeding the process of him getting healthy.
Khloe said, "I totally get it. I guess I gotta go back home, rip off the Band-aid."
Article continues below advertisement
She told her sisters "I think Lamar's a little scared of me" after she told him by phone that he couldn't go out of town until after his court appearance for his DUI.
"He ruined my one good day," Khloe complained at a fashion shoot with Kim and Kourtney.
Later, she told her sisters she and Lamar were going to sell their loft in downtown L.A. -- near the Staples Center where Lamar used to play with the Lakers.
Kim asked, "Where is he going to go?
"I don't know," Khloe snapped.
"I don't want to sell my house. I know I have to," Khloe said.
Back at Khloe and Lamar's main residence, Khloe was shown going into the empty and dark home.
"Walking into my house for the first time is a weird feeling. I feel like it's so empty, like there's no life inside the house," she said in confessional.
"I wish I could erase everything that happened but it's not that easy."
In the last KUWTK storyline of the night, Kourtney tricked baby daddy Scott, who claimed he was not emceeing a strip club event in Las Vegas. Kourtney and a friend found out otherwise, and traveled to Vegas to confront Lord Disick.
Scott was shocked she had tracked him down.
Kourtney asked Scott why he lied about going.
"I knew I could get the appearance done and get home," he shrugged, with typical Scott non-logic!